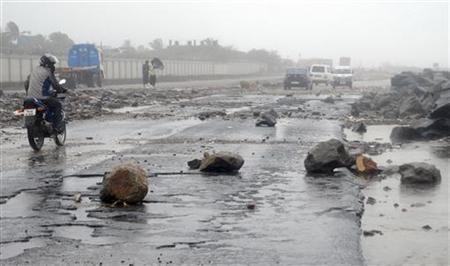 The Indian Meteorological Department (IMD) has issued a cyclone warning for north Tamil Nadu, Puducherry and adjoining South Andhra Pradesh coasts after deep depression swept over southwest Bay of Bengal.
Heavy to very heavy rains were forecast in Andhra Pradesh and North Tamil Nadu coasts on Tuesday. Rainfall would intensify to about 25 cm or more from the evening onwards, according to IMD.
Schools and colleges in the Chennai capital, Nagapattinam, Cuddalore, Kanchepuram and Union Territory of Puducherry have declared holiday after forecasters predicted heavy rains.
"The deep depression over southwest Bay of Bengal remained practically stationary and lay centred at 0530 hours IST of today, the 30th October 2012 over southwest Bay of Bengal near latitude 9.00 N and longitude 82.00 E, about 500 km south-southeast of Chennai and 100 km east-northeast of Trincomalee (Sri Lanka)," the meteorological department said on its website.
The depression would further strengthen into a cyclone which will first move north west for some more time and then cross north Tamil Nadu and Andhra Pradesh coasts between Nagapattinam and Nellore by Wednesday afternoon or evening, it added.
Stormy winds with speeds up to 45 to 55 kmph and gusting up to 65 kmph would prevail along and off the coasts of the two south Indian states during the next 12 hours.
Also, sea conditions will be rough for the next 48 hours and fishermen along the coasts of both states are warned not to venture into the sea.