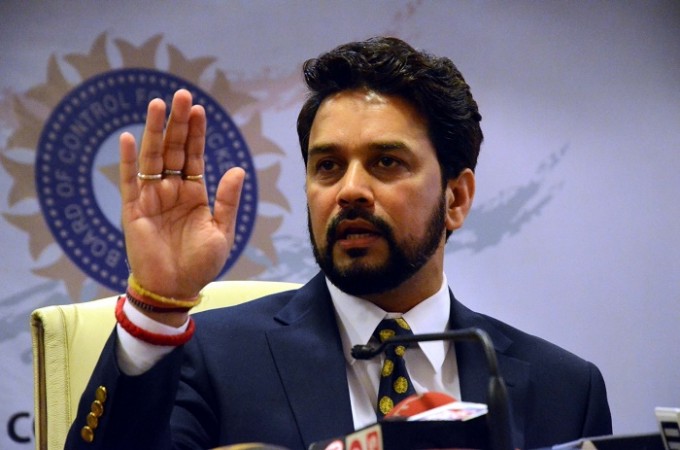 Anurag Thakur was unanimously elected as the new BCCI president a few days ago. The BJP MLA has taken over from Shashank Manohar, who is currently the chairman of the International Cricket Counil (ICC), in a time when the Board has been facing a lot of issues.
The Supreme Court had asked BCCI to follow all Lodha Panel recommendations, but the Board feels many of those are impractical, one of them being the suggestion of removing advertisements in between overs. The newly-elected BCCI president stated on Wednesday that taking away advertisement from in between the overs during a cricket match will have an impact on Indian cricket.
"If the advertisement is taken away during the matches, the revenue will come down which will impact all the state cricket association which have to create infrastructure for domestic matches. And, payments to the players - national as well as international - will also come down. It will adversely impact the Indian cricket and benefit other (cricket) boards. So, Lodha recommendations are not practical in nature (on advertising issue)," Thakur was quoted as saying by The Economic Times.
Thakur also spoke about the broadcasting rights of IPL in future. There will be a renegotiation of the IPL broadcasting rights at the end of the ongoing season and Thakur feels that there will be a big jump in revenue. The negotiations will begin after the IPL 2016 final on Sunday.
"At the moment, I can only say that IPL is the fastest growing league in the world. It clearly showcases that people are interested, fans are engaged and broadcasters are generating good amount of revenue," Thakur added.
"So, we will be looking at a very good amount, a manifold jump in the current agreement. I am sure once the negotiations start after May 29, BCCI will be able to generate handsome revenue."
Thakur also threw light on BCCI's method of looking for a coach for the India cricket team. The Board has put in an advertisement for the high-profile job and has given a deadline of June 10 for all applications to come in.
"We have advertised it and the criteria (minimum requirement) is being fixed. I am sure many people will be interested to coach the Indian team and will apply. We will shortlist them. June 10 is the last date of application. Before July 1 we should be able to finalise the coach," Thakur said.