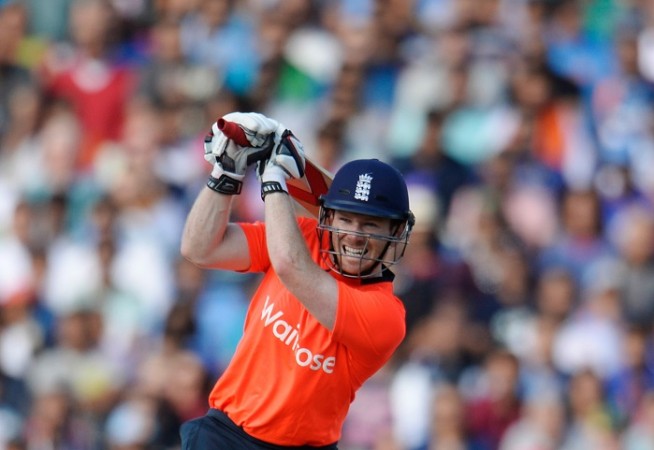 Eoin Morgan, England's limited-overs magic man had lost his powers a little of late, with that willow, used as a broadsword to scythe through the bowlers time and again, getting a little blunted.
However, back in the captaincy helm in the T20 game for England, Morgan rediscovered those powers of white-ball brutality, smashing the India bowlers, so clueless so often in the death overs, to all parts of the ground to lead the home side (used, purely in the geographical sense, of course, considering the partisan support India always get at Edgbaston) to a India-are-gonna-need-to-bat-out-of-their-skins-to-chase-this-down 180 for seven.
Bat out of the skins India did, with Virat Kohli finally finding some runs in England, but the right-hander's half-century was not enough to guide India through to a win as England sneaked home by three runs, with India finishing on 177 for five.
Kohli (66, 41b, 9x4, 1x6) was the main man in the chase for India, getting to a half-century, for the first time on this long, long England tour, and the moment the right-handed maestro fell in the 15th over of the innings, with India in cruise control, England charged back with not even MS Dhoni able to conjure up a victory for his side.
The chase did not begin rosily, with Ajinkya Rahane, a ball after sweeping Moeen Ali for a six, getting bowled around his legs to leave India a wicket down in the second over.
When trying to haul down 181, you always look to your top three to shine, and after Rahane's early dismissal, the onus was on Shikhar Dhawan and Kohli to set the platform for the rest of the smashers lower down the order. And set a platform they did, putting on 79 runs in just 53 deliveries, even if Dhawan, despite a 28-ball 33 (2x4, 2x6), never quite looked like his dominant self in the middle.
Once Dhawan was dismissed, bowled by Chris Woakes, in the 11th over, it brought in India's in-form man Suresh Raina to the crease, and the elegant left-hander and Kohli, looking more like the Kohli we all know without James Anderson and the slips, went about bringing that target down in double quick time. Their partnership of 42 in just 25 deliveries put India firmly in control, before Kohli gave his wicket away with the visitors needing 50 from a little over five overs.
England squeezed the game following Kohli's dismissal, with Raina (25, 20b, 1x4, 1x6) walking back to the pavilion a couple of overs later, bowled by a peach of an in-swinging yorker from Harry Gurney.
Suddenly from a gettable asking rate of below ten, the required rate jumped to well over 11, and beyond, putting the pressure on skipper MS Dhoni to weave his finishing wand again. Matters were not helped when Ravindra Jadeja ran himself out in the 18th over, with India needing 26 from the final 12 balls.
Gurney (4-0-29-1), who was excellent in the death overs, conceded just nine runs in the penultimate over, meaning India needed an unlikely 17 from the final six deliveries to end their England tour with a win.
A six over midwicket off the first Chris Woakes delivery from Dhoni opened up the game again, with a two and a boundary in the next three deliveries meaning India needed five from the last two balls for victory. Dhoni (27 n.o., 18b, 2x4, 1x6), though, refusing to take singles to bring Ambati Rayudu back on strike, could not find the middle of the bat in the final two balls as Woakes and England held their nerve to pull off a stunning win.
Earlier, choosing to bat first after winning the toss, England, with plenty of fresh faces in the lineup, and, perhaps, more importantly, a lot of the Test-style players given the day off, laid into the India bowlers from ball one, and even if they lost their way a little in the middle overs, there came Morgan to rescue his side with a superlative 71 from just 31 deliveries, smashing three fours and a massive seven sixes on the way.
England gave a debut to Jason Roy at the top of the order, and the right-hander, who has been in ridiculous form in the Natwest T20 Blast, showed his intentions right from the off, hitting a boundary in just the second ball of the innings via a cheeky reverse-sweep off R Ashwin, who did not enjoy himself out in the middle today.
Seventeen runs came off the first over, with Alex Hales also laying in to the off-spinner, before Roy's joy came to an abrupt end a couple of overs later. The right-handed Roy (8, 10b, 1x4), looking more like the batsman that England need opening in white ball cricket, looped a catch straight to Ajinkya Rahane in the covers off Mohammed Shami to hand India their first wicket.
England came with a clear plan of going at the bowlers hard as often as possible, but that plan seemed to be working against them as Moeen Ali went for a duck, playing a similar shot to Roy and looping a similar catch to Rahane, with Mohit Sharma this time picking up the wicket.
Joe Root, coming off a fabulous century on Friday in the 5th ODI, came in and looked to steady the England ship along with Hales, with the duo putting on 48 runs in 40 balls, after the early raucous opening had been nipped in the bud a little by the two quick wickets which left England on 27 for two.
While England's debutant Roy could not make as much of an impact as he would have liked, India's rookie – Karn Sharma (4-0-28-1) – showed exactly why he is so highly-rated in this format of the game. The leg-spinner, whose first real contribution in the match was one to forget as he and Ashwin made a hash of a catch which would have sent Root packing early, bowled three wonderful overs for just 11 runs, while also atoning for his mistake by dismissing Root (26, 29b, 2x4), before going for plenty in his fourth and final over as Morgan caught fire.
India kept picking up the wickets at one end, with Hales (40, 25b 3x4, 3x6), who was serene as ever, Root and Jos Buttler all falling, but the visitors could do little at the other end with Morgan in the mood, making six-hitting look easier than a forward defence.
Morgan was on 15 from 15 deliveries at the end of the 15th over, with England on 99 for four, and the skipper scored 56 in his next 16 deliveries, while the home side roared all the way to 180 as Ravi Bopara (21 n.o., 9b 3x4, 1x6), another man with a point to prove, also had a little bit of boundary-hitting fun.