OnePlus 6T's launch marked an important event in the company's history. For the first time, OnePlus phone was made available via carrier partnership in the U.S. If that wasn't good enough, the disruptive American telco is now offering the 6T for free, making it the best deal you'll find this holiday season.
OnePlus 6T, the first smartphone in the U.S. with an in-display fingerprint scanner, certainly strikes an appeal among consumers who aren't willing to spend the top dollar for a premium phone. And with T-Mobile's new "Magenta Friday" offer, grabbing the OnePlus 6T is a sweet deal.
OnePlus 6T (REVIEW) is listed for $580 on T-Mobile, but customers can also grab the phone with zero down payment and 24 monthly instalments of $24.17 a month. Of course, the deal comes with its own caveats and it's important for the buyer to meet all criteria to get the 6T for free.
Listed below are all the conditions one must agree to in order to get OnePlus 6T for free:
The promotion begins on Friday, November 16, so purchases must be made on or after the said date.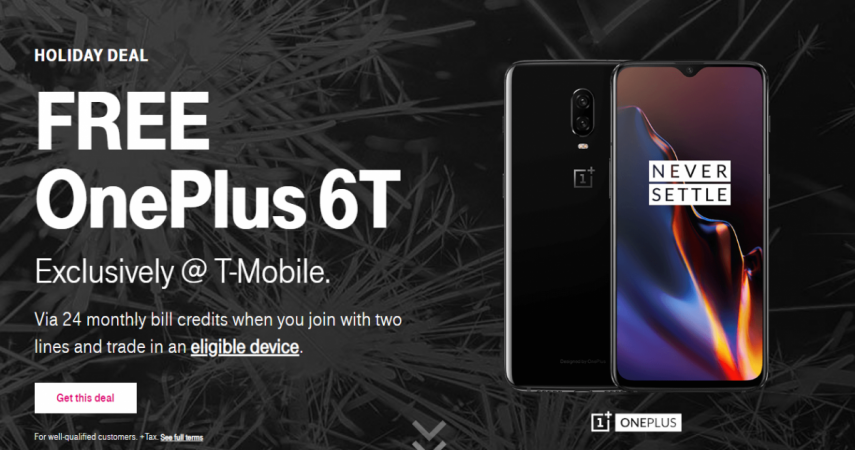 Customers must trade-in an eligible device, which include all popular premium phones ranging from iPhone 6s through iPhone X, Samsung Galaxy S6 to S8-series, Galaxy Note 8, Galaxy Note 5, all of Google Pixel phones and more. The exchanging smartphone must be in working condition without physical or liquid damage.
New customers must activate two new lines while existing ones should start at least one new line to be used with the 6T.
The offer is available on all postpaid plans and must be through T-Mo's Equipment Installment Plan with 0 percent APR.
Customers must pay down payment and taxes for the device at the time of purchase and continue on the availed voice rate plan in good standing.
How is it free?
While the terms of the deal appear same as any EIP plan, it's worth noting that customers will get a credit for the OnePlus 6T on monthly bills. Should you cancel your service mid-way, remaining balance must be paid.
Don't like the OnePlus 6T?
T-Mobile doesn't hang you dry. If the newly-launched 6T isn't your cup of tea, T-Mobile has a range of smartphones under the same free offer. They include, iPhone 8, iPhone XR, Samsung Galaxy S8, Galaxy S9, LG G7 and LG V40.