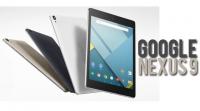 The newly-launched HTC-made Google Nexus 9 is up for grabs in 4G LTE variant from T-Mobile and AT&T. The LTE version of the high-end tablet was first made available by T-Mobile last Friday before AT&T jumped into the caravan with its own offering via Google Play Store shortly after.
New and existing customers can purchase the Nexus 9 LTE tablet from either carriers for $600 or choose to go with a contract or easy installment options.
T-Mobile
T-Mobile is offering the Nexus 9 LTE tablet for $0 down with $24.99 due per month for two years. With that, T-Mobile is offering 200MB of free data every month for as long as the device runs. But if the data requirement is more, customers can add the tablet to their existing Simple Choice Plan for an extra $10 per month to get up to 5GB data per month. For non-T-Mobile customers, there is an option to buy data buckets ranging from 1GB to 11GB per month for $20 up to $70, respectively.
AT&T
The HTC Nexus 9 LTE tablet is available via AT&T's network for the same price through Google Play Store. The device listing in the US Play Store page shows the unlocked version of the tablet can be bought for the same $600 through AT&T or fetch a $100 credit with a two-year contract. Additionally, if customers need to add the tablet to an existing data plan, it will cost $10 extra per month, which is pretty much the same as T-Mobile.
Google Nexus 9 LTE
The LTE version of Nexus 9 tablet isn't different from the original Wi-Fi only Nexus 9 tablet in terms of specs. Except for the upgraded data bandwidth, the Nexus 9 LTE still features an 8.9-inch display with 2048 x 1536 pixel resolution, 8MP rear camera, 6,700mAh battery, 64-bit NVIDIA K1 processor, 2GB RAM, 32GB storage and Android 5.0 Lollipop.
The device's availability in other countries is still unknown. In India, the 32GB version of the Nexus 9 LTE is expected to be priced at Rs. 44,900 while the 16GB Wi-Fi only model will sell for Rs. 28,900. The tablet is still listed as "coming soon" in India Google Play Store.