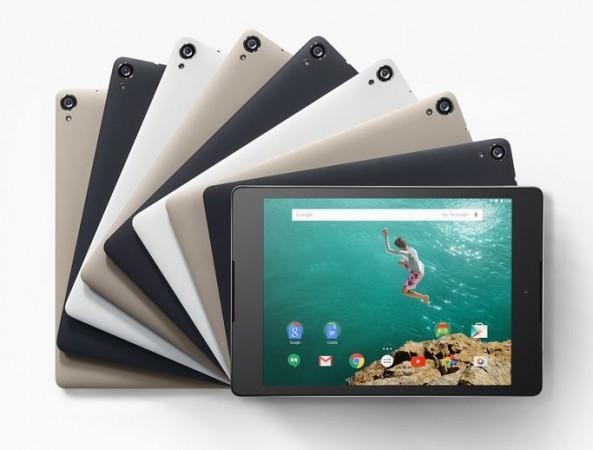 Build & Design
Remember the old clichéd style of tablet making? They used to be really boring with regular rectangular-shaped plastic devices.
Actually we should be thankful to Apple, who have brought the sleek design elements married with great built quality and ergonomics. After iPad, now every other manufacturer tries to make the device stylish yet being comfortable and HTC is a pioneer among them.
With Nexus 9 too they made sure to make the tablet as slim as possible. With 8mm of thickness, the HTC Nexus 9 measures 154x228mm and weighs just 425g. The tablet looks good and feels quite ergonomic in the hands.
HTC has also made sure that the device comes with a great built quality. The metal bezel and polycarbonate back has given the device an appealing look. The manufacturer has also made the NXUS 9 available in a variety of colours to suit a wide range of customers.
Display
A quality screen with ample crispness, colour and great viewing angle counts among the biggest necessities of a tablet and happily HTC didn't forget that. Featuring a 8.9-inch IPS LCD screen with a 2,048x1,536 pixels resolution, HTC has thrown a direct challenge to Apple's iPad Air 2, which incidentally features the same amount of resolution on a Retina display.
In a hands-on session we found the tablets screen gorgeous with a great level of colour balance, ample crispness, great readability and a stunning viewing angle. HTC has also featured Gorilla Glass 3 protection to guard the tablet screen against accidental damages.
Processing capability
The biggest advantage of 64-bit computing is they can perform double calculation from its 32-bit counterpart. They also support bigger volume RAMs, perform much better with 3D applications and go well with heavy games.
And with Lollipop 5.0 operating system, Android has moved to 64-bit of computing architecture. Utilising this, HTC has featured the Tegra K1 SoC on the Nexus 9 tablet. Incidentally, the NVIDIA manufactured System-on-Chip is the first ever processor to utilise ARM's 64-bit architecture. The SoC also features Kepler architecture based 192 Cuda cores for better graphic performance, which makes the tablet capable of running any graphic-heavy applications with ease.
Camera
The HTC Nexus 9 features a 8MP auto-focus rear camera with f/2.4 aperture coupled with a BSI sensor. In our hands-on session we found the camera to be having good focusing capability and low-light performance.
For the front, HTC has chosen a 1.6MP camera with a similar aperture. The camera is also good for video calling and clicking selfies.
The images appear quite well in quality and can easily be shared on any social media. Few expect higher megapixel cameras for the front. Yes they click better selfies but consume more data while making VOIP calls better for those areas where Internet bandwidth penetration is very slow.
Battery Life
Powered by a 6,700 mAh battery, HTC Nexus 9 comes with a claimed battery life of 30 days standby time, 9.5 hours of internet usage in WiFi and video playback. On the top of it the Nexus 9 will utilise the Lollipop's extended battery usage capability.
Optimised performance
All the Nexus devices enjoy an advantage compared to other Android counterparts for quite a few reasons, the most significant of which is the raw google interface it features. Usually, all the non-Nexus devices come with a customised interface layer on top of the operating system, and few of them feel a bit on the heavy side. Another big advantage of having a Nexus is enjoying the OS (operating system) update faster than anybody else.
The latest Android 5.0 Lollipop also features several advantages compared to its previous generation. The material design, enhanced security, SELinux support and encrypting capabilities make Nexus 9 one of the best tablets available for purchase.
Price and Availability
The HTC Nexus 9 is available for purchase through Google Play Store and many other online stores and retails for Rs. 28,990 for the 16GB WiFi only version, and Rs. 44990 for the 32GB 4G LTE version.