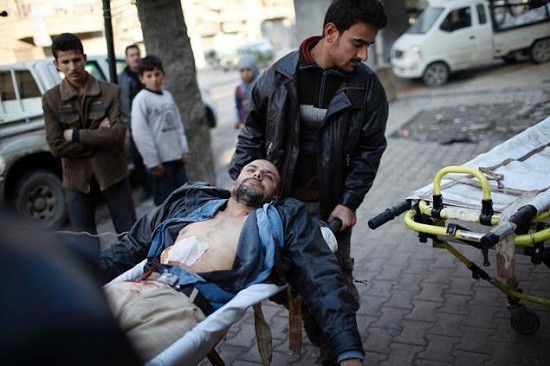 The United Nations independent commission investigating the human rights violation has severely criticized the Assad government for targeting healthcare personnel. In many cases, the report noted that ambulance drivers, nurses, doctors and medical volunteers were attacked, arrested and unlawfully detained, by the government on suspicion of treating a protester.
The commission, headed by Paulo Sergio Pinheiro, has been tasked by the United Nations Human Rights Council to investigate and record all allegations of crimes against humanity and its mandate was recently expanded to include "investigations of all massacres". On 5 March, the report was made public.
"The most insidious trends of the armed violence in Syria has been the targeting of healthcare personnel. ...Intelligence and law enforcement agencies have forcibly disappeared medical personnel providing treatment to perceived opposition supporters" the independent commission in its report noted.
The report documented dozens of cases involving the murder, death, imprisonment and even disappearance of medical personnel from April 2011 to the end of 2013.
It noted that in July 2012, Dr. Nur Maktabi, a senior doctor at Al Zarzou Hospital went missing and was found dead in December 2012. In another incident a surgical assistant at Al Zarzou Hospital disappeared in October 2012, after which the hospital's anesthetist disappeared at a Government-controlled checkpoint on his way home from Aleppo in mid-December 2012. The government took severe action against anyone, who it thought had helped or in this case treated a wounded protester, the UN commission stated.
The commission also documented that persons delivering medical supplies were targeted by the government forces. In August 2012, officers at a Government checkpoint in Athman, Homs, stopped and searched an ambulance delivering medical supplies. The driver of the ambulance was taken to an intelligence service detention facility. Two weeks later, the National Hospital in Dara'a released his body, bearing extensive injuries consistent with severe torture.
The independent commission that has rapped the Assad government also reported that the Intelligence and law enforcement agencies have setup special detention centers in hospitals itself. Consistent accounts from Abdul Qadir Al Shaqfa Military Hospital in Al Waer, Homs, indicate that security officers tortured people brought for medical treatment from April 2011 to September 2012. Doctors were ordered to keep victims alive so that they could be interrogated further, the report stated.
Eyewitnesses describe how patients were chained to their beds and blindfolded, provided minimal food and water and subjected to harsh treatment, the commission noted.