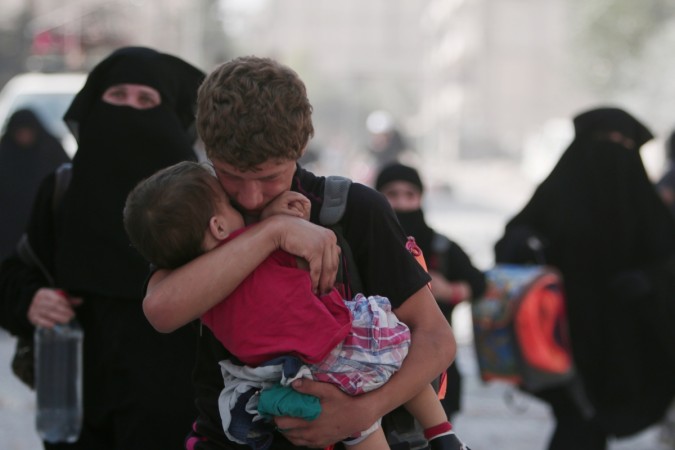 Residents of Manbij city in Syria were in celebration mode recently with men cutting beards and women burning burqas and smoking cigarettes after the US-backed fighters took control of the Syrian city and ousted the last of the Islamic State (Isis) militants from their stronghold.
Isis had held around 2,000 civilians as hostages to use them as human shields against the armed forces. However, they have now been freed. "We were besieged... They took us with them and used us as human shields to protect themselves," a resident was quoted as saying by CNN citing Kurdistan 24.
Women were seen removing their niqabs and walking on the streets with their faces uncovered after almost two-and-a-half years of suffering at the hands of Isis. Some women also burnt their burqas. Men were seen cutting their beards. Both men and women lit cigarettes and smoked away. Residents hugged the soldiers and thanked them for finally giving the citizens their freedom.
The Syrian Democratic Forces (SDF), an alliance of Kurdish and Arab forces backed by the US, took control of the Isis-held neighbourhood after fighting against the terrorist organisation since May 2016, according to the Syrian Observatory for Human Rights (SOHR). The fighting killed over 1,000 people and displaced several thousands.
The SOHR report states that the battle has claimed the lives of 1,756 people, including 438 civilians, 299 soldiers and 1,019 Isis militants, since the offencive began in May.
Losing Manbij would be a big blow to the terrorist organisation as it blocks a supply route Isis has between Raqqa and Turkey, CNN reported. The city, which was seized by Isis a couple of years ago, was a hub for recruiting and processing foreign fighters, the Pentagon's Deputy Press Secretary Gordon Trowbridge told journalists in a statement. He added that militants also used it "for dispatching operatives across the Turkish border for potential use in external operations."
SDF spokesman Nasser Haj Mansour told Associated Press that Manbij "is under full control," adding that the search for any Isis militants who might have stayed behind is still on. Mansour further added that some militants were captured in Manbij while others fled to nearby villages. "Military operations will continue until these villages are clean," Mansour said.
Isis lost Manbij two months after losing control over the city of Fallujah.