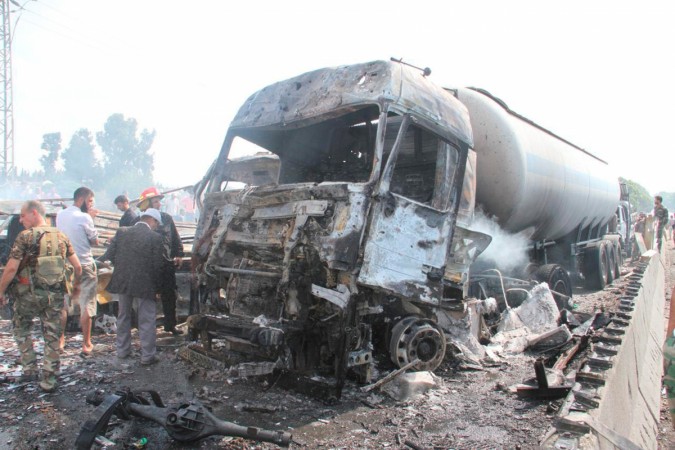 At least 43 people were killed and several others were wounded in multiple bomb blasts in Syria on Monday. The blasts occurred in majorly government-controlled areas, killing at least 30 people in President Bashar al-Assad's stronghold Tartus.
Tartus city is home to a Russian naval base in Syria. No terrorist group claimed responsibility for the blasts, however, Islamic State (Isis) has previously frequently targeted multiple areas which were affected by the blasts on Monday.
Apart from Tartus, other areas, included the government-held Homs city and a Kurdish security forces checkpoint in Hasekeh city, were also targeted. Two blasts also hit Tartus' Arzuna bridge.
"The first blast was a car bomb and the second a suicide bomber who detonated his explosive belt when people gathered to help the wounded," according to state television.
Tartus has become a refuge for many Syrians who are fleeing from violence in the worst-affected areas in the country. At least eight people were killed by a bomber on a bike in the northeast region of the country in Hasakeh, the region is mostly controlled by the Syrian forces. The attacks were also targeted in central Homs city and Al-Sabura road.
The Observatory director Rami Abdel Rahman said the dead in both the Homs and Al-Sabura road attacks were government security forces manning checkpoints.
According to the state media, the dead included six members of the Asayesh security forces and two civilians. Hasakah has continued to remain a frequent target for blasts, especially by Isis.
Reports state that the bombings in Syria on Monday came after Turkish forces and Syrian rebels' advances helped in clearing Isis from the last stretch of the Syrian-Turkish border under the control of Islamic State. Turkish President Recep Tayyip Erdogan on Sunday claimed that Turkish forces were successful in wiping-off Isis from the northern part of Syria.
Isis has been losing ground to the Syrian Democratic Forces, which is an alliance of the Kurdish and Arab fighters against the Islamic State jihadists.