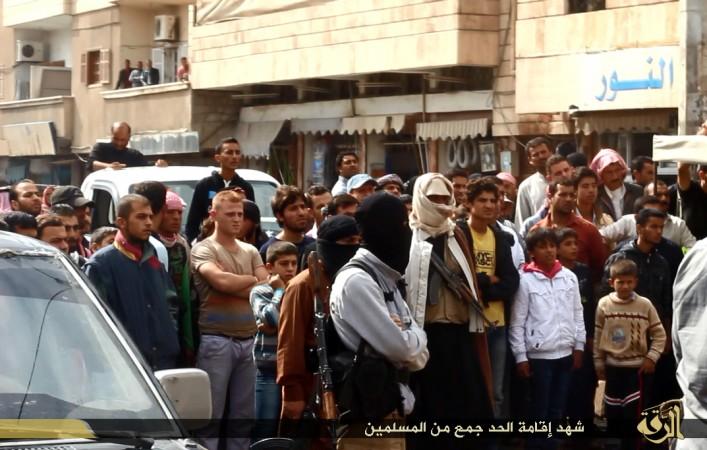 Reports out of Syria reveal that on Sunday, ISIS militants beheaded three men in the city of Raqqa on chargers of "insulting Allah."
The three men were reportedly heard "cursing Allah's name" out loud in the Syrian city of Raqqa. As per the report released by the ISIS Information Office in Raqqa, the militant group was forced to take the action after it found that "people have dared to insult the Lord of Glory in the markets and streets and houses."
Raqqa, which is currently a strong ISIS base is ruled strictly under the Sharia laws and any non-compliance to any of the dictates is met with harsh punishment.
While details of the crime, committed by the three beheaded men is still unclear, the ISIS report claimed that the Sharia court has enough evidence to prosecute the three.
The Sharia court ruling then noted that as per Quran, heads of those who insult God, "should be struck with a Sword in front of a gathering of Muslims. So that no one will dare again." Hence the three were executed in a busy market street before a crowd of Muslims.
A report out of Raqqa claims that the ISIS applies its own laws in the city and the people are being forced to follow it. Under the Sharia laws, the ISIS has made it compulsory for everyone in Raqqa to pray all five times a day, smoking has been prohibited and women are now banned from entering cafes or walking on the street without the veil.
Recently, the Islamic State militants also carried out a stoning in Hama, where a young woman charged of adultery was stoned to death with the approval of the victim's father. In the brutal video of the Hama stoning, the woman is seen being led to the stone site dragged by a rope around her.
In the stoning video, which appears to be shot on a mobile-phone camera, the woman is seen pleading to her father for "forgiveness."
In Raqqa also ISIS has carried out brutal practises of stoning citing the Sharia laws. In July, two stoning executions were carried out in Raqqa over allegations of "adultery".
The reports found that in at least one case, a woman was sentenced to death by stoning after her new husband alleged that she was not a virgin. Both public stoning were carried out by the Sharia court in Raqqa.