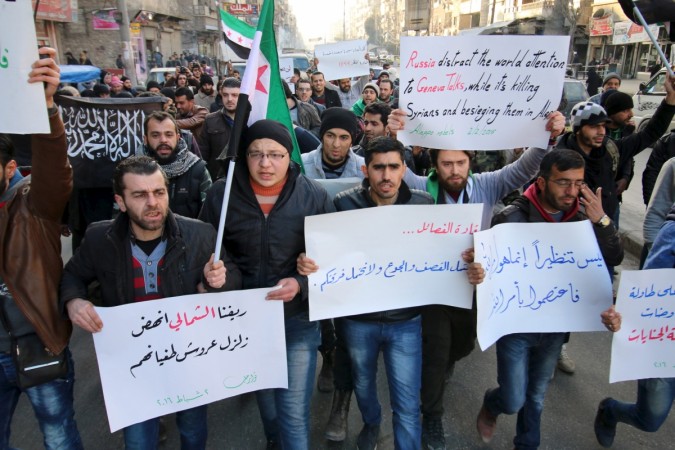 The Bashar al-Assad government and key opposition began blame game after the United Nations on Wednesday suspended the peace talks aimed at ending the five-year-long civil war in Syria. The move came after Syrian forces, backed by Russian air strikes, severed the last supply route from Turkey to rebel-held city of Aleppo.
UN Syria envoy Staffan de Mistura said they would resume the talks on 25 February, AFP reports.
The Syrian opposition said the President Assad's regime was not interested in peace talks, and refused to return to Geneva for the discussions until "the humanitarian demands are met or (we) see something on the ground".
"The whole world sees who is making the negotiations fail, who is bombing civilians and starving people to death," High Negotiations Committee (HNC) -- main opposition umbrella group -- chief coordinator Riad Hijab.
On the other hand, the Syrian government said the opposition, which follows the orders of Saudi Arabia, Qatar and Turkey, was responsible for the suspension, according to BBC.
"Those who have the responsibility of this failure are the Saudis, Turks and Qataris. They are the real handlers and masters of the Riyadh group," Reuters quoted Government delegation chief Bashar al-Ja'afari as saying.
Ceasefire would be one of the main topics on the agenda during the "proximity talks" between Syrian government and opposition. The discussion is aimed at ending the civil war that has claimed over 2.5 lakh lives and forced over 10 million to migrate to other countries, mostly European Union nations.
Russia on Wednesday backed the government regime to end the three-and-a-half-year-long siege on the Shi'ite towns of Nubul and al-Zahraa. It completely recaptured the Aleppo city of Syria and cut supplies from Turkey to the rebels.
Russian Foreign Minister Sergei Lavrov said on Wednesday he saw no reason as to why "these air strikes should be stopped" until the "terrorists" are defeated, Reuters reports.
"The regime forces have done in three days in Aleppo what they had failed to do in three years, thanks mainly to Russian support," Rami Abdel Rahman of Britain-based monitoring group the Syrian Observatory for Human Rights said.
French Foreign Minister Fabius Laurent Fabius and US State Department condemned the attacks and said Russian airstrikes are hampering the peace talks.
"It is difficult in the extreme to see how strikes against civilian targets contribute in any way to the peace process now being explored," AFP quoted State Department spokesman John Kirby as saying.
French Foreign Minister Laurent Fabius condemned "the brutal offencive by the Syrian regime, with the support of Russia, to encircle and asphyxiate Aleppo". He added that neither "Assad's regime nor its supporters apparently want to contribute in good faith, thereby torpedoing the peace efforts."
World leaders will meet in London on Thursday to discuss the suspended Geneva talks. They will arrive there for a donor conference to help Syrians.