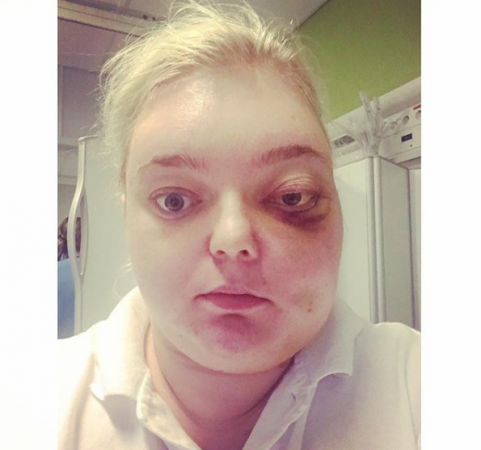 A nurse has been left looking like she is teary-eyed all the time because of a medical condition that leads to the growth of cysts inside her skull. The condition is so severe that it has caused her left eye to pop out which can eventually turn her blind.
Sofia Jingsäter from Sweden suffers from extreme pain and constantly has watery eyes as the cyst growing inside her skull blocks the tear ducts, reports the Crater News. The 26-year-old has been diagnosed with McCune-Albright syndrome that causes polyostotic fibrous dysplasia which leads to the abnormal growth of tissue and cysts around her bones.
Her condition was diagnosed at the age of five. Doctors struggled to find out the actual cause of her symptoms. The early onset of puberty and the hormonal changes were considered as the main indicator.
This condition which affects only one in a million has caused Sofia's left eye to swell badly due to the cystic growth beneath her nose, jaw and eye socket, thus putting an extreme pressure on her face. Sofia stated that the cysts make her left eye pop out more and make it look much bigger than her right eye.
Sofia had numerous cysts removed in a six-hour operation. The operation was a necessity for her as the cysts were putting a strain on her optic nerve that could have led to her blindness.
However, the cysts can grow back even after being removed. This causes Sofia's eyes to turn watery due to her blocked tear ducts.
"I have cysts that grow in my face, mostly on the left-hand side so my jaw bone, under my eye, in my arms, ribs, back and hips. They vary in size and grow with my bones, the ones behind my eye could cause blindness or the loss of my hearing if it grows too large," Sofia told the Caters News.
"There were multiple cysts under my eye, to the side of it and in my nose, in my recent surgery they took out as many as they could in six hours. The one in my jaw was the size of a grape," she continued.
"I had the cysts removed from under and around my eye to make my eye fit into the eye-socket better. It was swollen, constantly red and tearing up the whole time before, almost every day, then when I had a cold it was even worse running more and more," Sofia added.
Sofia's bones have turned weaker and she has hyper-pigmentation which causes light brown color spots to appear on her skin.
"The hyper-pigmentation, they realised my hormones were overloading my body, I started menstrual bleeding as a young child. I did get medication for menstrual bleeding from the age of five to eight. After that I started to get my menstrual bleeding, before the age of five I did have bleeding on and off," she said.
Sofia revealed that due to the hormonal imbalance in her body, she looked much older and matured than the kids of her age. She was even bullied as a child.
"Doctors often explained it to me that in my head I was ten but in my body, I was 14-years-old. I was so mature for my age that people thought I was strange, disgusting and weird, it went on for years," she said.
The pain in her bones is something she deals with daily.
"If I have a cold, the bones in my ribs and back will hurt if I cough or sneeze, as well as making it difficult for me to sleep," she said.
Sofia said that she will have many more surgeries in the future and even hopes to raise awareness of the chronic illness and explain to others why she is "always crying."
"Future surgeries will remove more of the cysts I have more underneath my left eye, once removed it should hopefully stop my eye tearing up all the time," Sofia added.