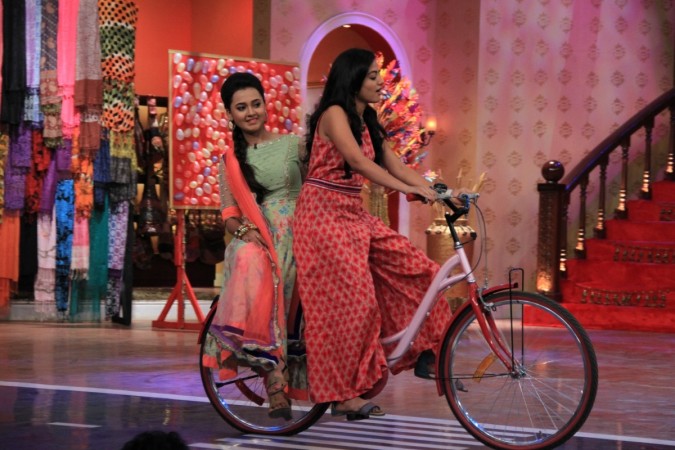 Viewers will finally see some happy moments in Colors' "Swaragini". There will be a double celebration with double marriage in the family.
It is known that the upcoming track of "Swaragini" will show Swara (Helly Shah) getting married to Sanskaar (Varun Kapoor), as the promo of their marriage has been going on television for quite a while now. And now, the latest reports suggest that Ragini (Tejaswi Prakash Wayangankar) and Lakshya's (Namish Taneja) will get married again.
"With Urvashi masi's (Sonia Singh) truth getting revealed, the entire plot will take a different turn. Post Shekhar (Sachin Tyagi) and Sharmishtha (Parineeta Borthakur), for the first time ever Ragini (Tejaswi Prakash Wayangankar), will be seen showing her concerns for Sharmishtha's well-being. And after knowing about Urvashi's truth, Ragini will become furious with her and will take Sharmishtha's side," an insider from the set told Tellychakkar.
Lakshya and Ragini had a troubled marriage after the former confessed that he just pretended to be in love with her. However, the recent turn of events will change everyone's heart. Along with Swara and Sanskaar's marriage, the family will also consider about Ragini and Lakshya's marriage, the entertainment portal reported.
But it looks like the struggle in Ragini's life will continue as a new character's entry will change her equation with Lakshya. Kanchi Singh, who was seen in Zee TV's "Aur Pyaar Ho Gaya", will enter the show as Lakshya's ex-girlfriend. According to BollywoodLife.com, Kanchi will tie the knot with Lakshya instead of Ragini.
What happens next is still a mystery, but it is sure that the makers will leave no stone unturned to surprise their viewers with interesting twists.