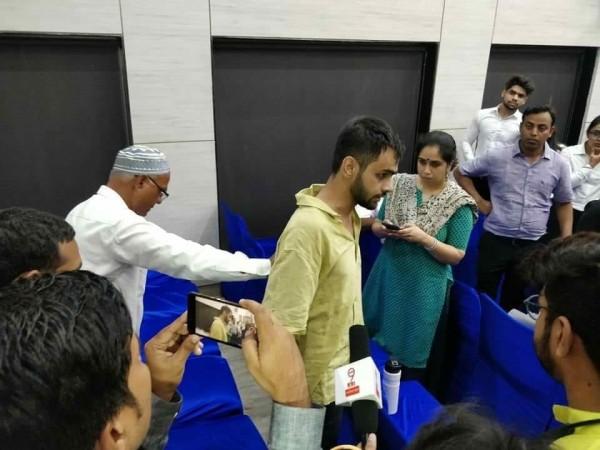 Famous personalities like actress Swara Bhasker, former Jammu and Kashmir CM Omar Abdullah and many others have condemned the attack on Jawaharlal Nehru University student Umar Khalid. The Bollywood actress described the incident as a 'lawless anarchic state of affairs.'
Student activist Umar Khalid was shot at the Constitution Club near parliament on Monday, August 13. Fortunately, Khalid is unhurt but the shooter and his accomplices have managed to escape. The Delhi police have started investigating the matter and are expected to reveal the details of assailants and their motive soon.
The Constitution Club in Delhi is in a high-security zone. The national capital is also on a high alert due to the Independence Day celebrations on August 15. The news about the unidentified person firing at Umar Khalid has sent shockwaves across India.
Soon after hearing the news, some celebrities took to Twitter to condemn the firing at JNU student Umar Khalid. Here are some of their comments.
Actress Swara Bhasker: What are we becoming?!???!? A lawless anarchic state of affairs.. so damaging to our institutions and credibility at a responsible State. Even if you don't like umar's views! in solidarity! #UmarKhalid
Former J&K Cm Omar Abdullah: Wage a motivated hate campaign against individuals & sooner or later someone will feel emboldened enough to take the law in to their own hands. The attack on @UmarKhalidJNU is the direct result of the relentless hate campaign using both social & mainstream media. Glad he's well.
Playback Singer Caralisa Monteiro: Anyone of us that speaks our minds could be next. Speak your mind today and forever fight to defend that freedom. #umarkhalid
Filmmaker Rakesh Sharma: Stunned and shocked. At CCI in Delhi's heavily-protected VIP zone! Lone Ranger or goon-cadre from a "fringe group" that operates with aashirwad & impunity - only investigations will tell But @Republic @TimesNow etc who spew nightly hate & demonised #UmarKhalid - this is on you!
Ad Filmmaker Voice Of Ram: First they will go after those who speak up then, the rest. If you still have doubts about what India is becoming, let this event clear it up for you. Speak up against hate NOW! Or forever suffer the consequences: A country in the grip of fear as hatred!
AIPWA Secretary Kavita Krishnan: Shocking attempt to kill #UmarKhalid - ironically outside Construction Club in Delhi. The hate speech and fake news by news channels targeting him and others as 'anti national' directly results in such murderous violence. Those burning Constitution are, of c not 'anti national'!
Journalist Saba Naqvi: I seriously worry at the toxicity that makes someone attempt to shoot #UmarKhalid. From the time he came to public notice he has been declared guilty by kangaroo courts and not by the law of the land. Shame on us.
Feminist Rituparna Chatterjee: It takes a minute to brand someone an anti-national, days for hate-propelled media to embellish & establish that narrative, years for a nation to heal from the sickness of rabid nationalism. In solidarity with #UmarKhalid who was attending an event called 'Khauff Se Azaadi'
AICC Jt Secretary Ruchi Gupta: People are now going to be shot at in broad daylight in the heart of Lutyens Delhi? For their views? #UmarKhalid