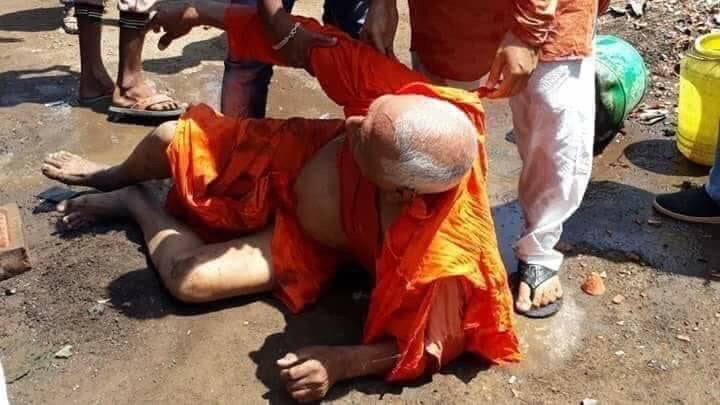 Several political figures, as well as celebrities, have condemned saffron terrorism after activist Swami Agnivesh was beaten up by the right-wing fringe group.
Swami Agnivesh is an Arya Samaj scholar, a social activist and former Member of Legislative Assembly from the Indian state of Haryana. Some of his views on idol worship and other beliefs have hurt the sentiments of a right-wing fringe group. He was attending an event in Pakur in Jharkhand on Tuesday. The group resorted to protest against him in front of the hotel and raised slogans against him.
When Swami Agnivesh came out of the hotel to attend the event, he was attacked and allegedly beaten up by angry protesters from the right-wing group. The 79-year-old Arya Samaj scholar was admitted to a hospital in the city. Police have detained the protesters.
Swami Agnivesh was attacked on the day when Supreme Court had called for a separate law against lynching.
Many celebs from films, politics and other fields took to Twitter condemned the attack on Swami Agnivesh.
Actor Prakash Raj: while Swamy Agnivesh is attacked .. "The horrendous acts of mobocracy cannot be permitted to inundate the law of the land " says SUPREME COURT..but WHO is initiating this by seeding fake news ..lying..lynching..threatening voices of dissent .. will you answer sir .. #justasking.
Actress Swara Bhasker: This is what hate looks like. The wise and always open to dialogue HINDU humanist #SwamiAgnivesh attacked by so called defenders of Hinduism. He is 80 years old. This is HEARTBREAKING. Along with ALL the lynching deaths this too is on u @BJP4India/
Nobel Peace Laureate Kailash Satyarthi: I condemn the attack on Swami Agnivesh in Jharkhand. I appeal to CM Sh. @dasraghubar to take swift action in this regard. Disagreement or dissent should not translate into an act of violence.
Bihar's ex- DCM Tejashwi Yadav: Strongly condemn the murderous attack on Swami Agnivesh in BJP ruling state Jharkhand by BJP goons. These state sponsored BJP gundas don't have any fear of law. Culprits must be punished. BJP should apologise for this shameful & gruesome act.
Prashant Bhushan: Swami Agnivesh brutally assaulted by BJP Yuva morcha goons in BJP ruled Jharkhand on the day the SC delivered a tough judgement against mob vigilantism. This is the contempt that the BJP has for the rule of law & the SC!
Sitaram Yechury: We strongly condemn this terrible attack on Swami Agnivesh. This incident has again happened in a BJP-ruled state and these goons are from the same Parivar as the ruling party. The culprits must be punished.
Jignesh Mevani: Precisely. Attack on Swamiji must be condemned from one and all. And he is 80. This is really disturbing.
Ramachandra Guha: Swami Agnivesh is known for his work to emancipate bonded labour, and for the promotion of inter-faith harmony. He also has a sense of fun, with a joyous laugh. A Hindu monk of courage, compassion, and humour; so naturally he must be beaten up in Modi's India.
CPI (M): CPIM condemns the attack on #SwamiAgnivesh in Jharkhand. Brinda Karat who was in Ranchi said: "Cowardly attack by Sangh Parivar activists on Swamy Agnivesh in Pakur is shameful & highly condemnable. We demand immediate arrest of the perpetrators of this heinous attack."