At least 58 people were killed in a suspected chemical attack in a Syrian town in northern Idlib province on Tuesday, Syrian opposition activists said. The victims of the attack, which is being described as one of the worst in Syria's six years of civil war, also included 11 children.
While the Idlib Media Center said dozens of people were killed in the attack, Britain-based Syrian Observatory for Human Rights put the death toll at 58.
The media centre also published a video footage of medical workers rushing to help the affected people, where they were seen putting a little girl on a ventilator who was foaming at the mouth.
There were no immediate statements from the Syrian government or any other international agency post the attack. Reports state this was the third such chemical attack in Syria, the first two attacks were reported in Hama province, which is not far from the site of Tuesday's incident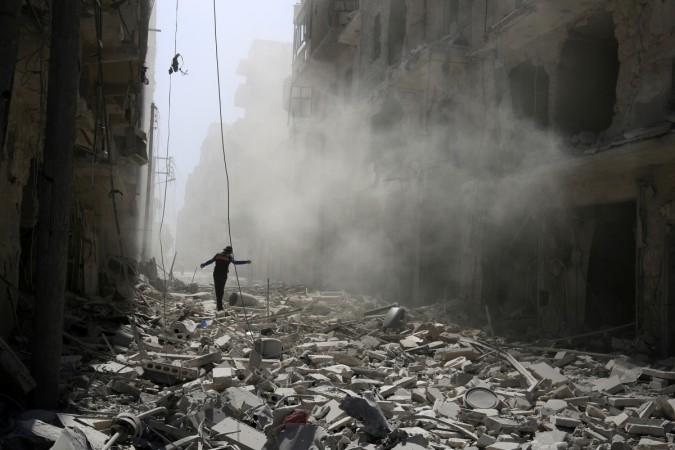 The Syrian activists claimed the attack was carried out by an airstrike by either the Syrian government or the Russian warplanes. They are unaware of the chemical agent used in the assault. Many suspect a toxic gas.
"Because of the number of wounded, they have been distributed around in rural Idlib," Mohammed Hassoun, a media activist in nearby Sarmin told The Associated Press by phone. "There are 18 critical cases here. They were unconscious, they had seizures and when oxygen was administered, they bled from the nose and mouth."
It was not immediately clear whether the victims died of suffocation or wounds sustained from airstrikes.
The incident occurred a day before a major international meeting scheduled to be held in Brussels on Syria. The meeting will be hosted by the European Union's High Representative Federica Mogherini.