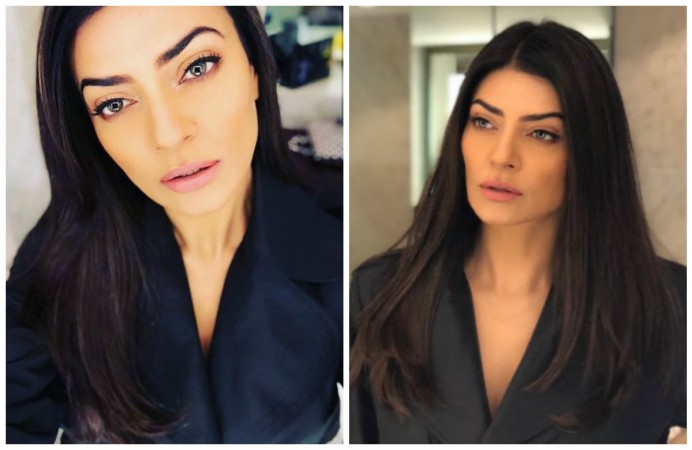 Sushmita Sen recently posted some pictures of herself on social media that made some compare her with the Kardashian sisters, while others felt that she underwent plastic surgery.
Sushmita's new profile picture on Twitter shows the diva in her usual ageless avatar. A number of other pictures, mostly selfies, also made its way to social media.
Wearing a black dress with her hair loose, Sushmita appeared to be like one of Kardashian sisters, according to many. There are multiple comments on social media where people called Sushmita the "new Kardashian sister".
On the other side, seeing Sushmita's flawless skin and sharp facial features, a section of people felt that the actress underwent plastic surgery. While most fans praised her for ageing so gracefully, some questioned her need to go under the knife as they felt her beauty is artificial.
Although Sushmita has always denied having undergone any such surgery, there were reports that she had opted for breast enlargement surgery right after winning the Miss Universe title. There were also reports that she had undergone surgery to make some changes to her nose.
Sushmita is not the only one from the industry who is rumoured to have made changes to her body or face through surgery. Actresses like Anushka Sharma, Priyanka Chopra, Sridevi, Ayesha Takia among others are all rumoured to have gone under the knife at least once.
Check out Sushmita's latest pictures and some of the comments it received:

You look like a Kardashian

— Malikka Narang (@MalikkaNarang) October 1, 2018
That plastic surgery was a waste of money

— thomas okelu (@Thomasokelu) October 2, 2018
I don't understand why you rich people need plastic surgery?you got such a beautiful beautiful face and body ,accept the GODS gift . Then why sush?

— Randhir Dutt (@RandhirDutt) October 1, 2018
Too much plastic in a single photo.. ?

— Sher Afgan (شیر افگن) (@SherAfganEngr) September 29, 2018