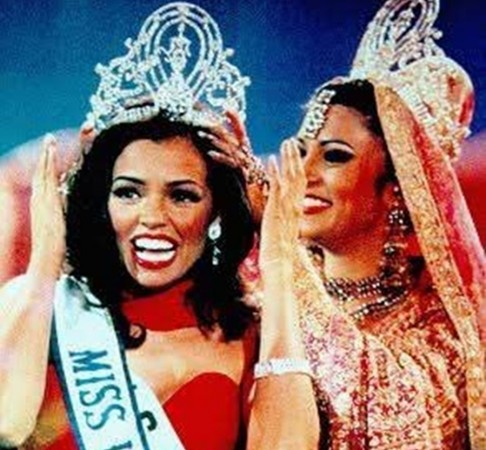 Miss Universe 1995, who was the successor of Sushmita Sen at the beauty pageant, has passed away after a long battle with liver cancer on Saturday, September 8. She was 45.
Sushmita Sen on Sunday, September 9 mourned the death of Chelsi Smith. She posted a photograph which captures the moment the Indian beauty had passed her crown to Smith on Twitter and wrote, "I loved her smile and that generous spirit. Rest in peace my beautiful friend, Chelsi Smith. Miss Universe 1995."
Smith's spokesperson Jarrod Klawinsky said that the Miss Universe 1995 was diagnosed with cancer in spring 2017 and her health had started deteriorating badly.
"It just got worse throughout 2017 and this year she became extremely weak," Klawinsky told the Houston Chronicle.
According to a statement issued by Smith's family, she died at her mother's home in Pennsylvania where she had been staying since August.
Chelsi Smith had contested her first major beauty contest in 1994 and ended up as a semifinalist at the Miss Texas USA pageant. In 2015, she won the title of Miss Galveston County USA along with the Miss Congeniality award. She also bagged the Miss USA and Miss Universe title the same year. According to her family, she was the only three titleholders of African-American heritage in the pageant's history.
After winning the Miss Universe title, Smith worked as a model for various brands like Hawaiian Tropic, Jantzen, [17] Pontiac, Venus Swimwear, and Pure Protein among others.
She was also featured on Martin, Due South and a TLC documentary called The History of the Bathing Suit.
Later, she recorded and co-wrote her first single Dom Da Da with producer Damon Elliott. The song was a part of the soundtrack for the film called The Sweetest Thing which featured Cameron Diaz in lead role.
In 2003, Smith featured in her independent film called Playas Ball which also starred Allen Payne and Elise Neal.
She also co-hosted Beyonce Knowles' special Beyonce: Family and Friends Tour.
Later, she was seen as a judge at the 2006 Miss Teen USA pageant. In 2016, she was a guest judge for the Miss Peru beauty pageant.