Minister of external affairs Sushma Swaraj on Tuesday confirmed that India would issue a medical visa to a resident of Pakistan-occupied-Kashmir (PoK) as the area is an "integral part of India".
Accusing Pakistan of "illegally" occupying PoK, Swaraj said that no recommendation letter would be required from Pakistan foreign affairs adviser Sartaj Aziz for the issuance of the medical visa to the PoK resident.
POK is an integral part of India. Pakistan has illegally occupied it. We are giving him visa. No letter required. https://t.co/cErxQw7Cht

— Sushma Swaraj (@SushmaSwaraj) July 18, 2017
The ministry of external affairs (MEA) had recently announced new rules for the issuance of medical visas wherein Pakistani residents applying for the same would need a recommendation letter from Aziz, their foreign affairs adviser.
However, these rules apparently do not apply to PoK residents as the region "is an integral part of India" as stated by Swaraj.
Osama Ali, a 24-year-old man from PoK, has a tumour in his liver and needs a liver transplant for which he has already been accepted by a private hospital in Saket in New Delhi. However, he needs a medical emergency visa to India to undergo the liver transplant.
But Pakistan's foreign affairs ministry had turned down his family's plea for a letter from Aziz to the Indian High Commission in Islamabad.
The ministry said that it "was not the policy for Aziz Sahib to write the letter. The practice is for the Secretary in charge of the South Asia desk to write a letter, but we have learnt that the Indian High Commission has rejected some visas with these recommendations," Javed Naz Khan, Ali's father was quoted by the Indian Express as saying.
With Swaraj confirming on Twitter that a recommendation letter from Aziz would not be required, it looks like Ali will finally be issued a medical visa to travel to New Delhi for his treatment.
On July 10, Swaraj had lashed out at Aziz for not having "the courtesy to even acknowledge" her letter requesting him to grant a visa to Avantika Jadhav, alleged Indian spy Kulbhushan Jadhav's mother, so that she could travel to Pakistan to meet her son who was sentenced to death in April this year for espionage.
Swaraj had also indicated that it was Aziz's fault due to which Pakistani nationals who urgently needed medical attention were not being able to travel to India for their treatment. She assured all the Pakistani nationals that visa to those in need of medical help will be issued immediately if Aziz provides a recommendation letter.
She assured Pakistanis that India is happy to grant medical visas and hoped Aziz "has consideration for the nationals of his country".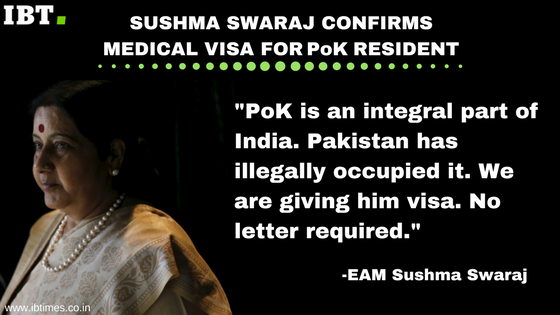 "I am sure Mr Sartaj Aziz also has consideration for the nationals of his country. I see no reason why should he hesitate to give his recommendation for nationals of his own country... But I assure Pakistan nationals seeking medical visa with a recommendation from Mr Sartaj Aziz, we will issue the visa immediately," Swaraj had said.
India has always issued medical visas to Pakistani nationals in need of urgent medical attention. It has never closed the humanitarian window even when bilateral relations between both the countries were at its worst.