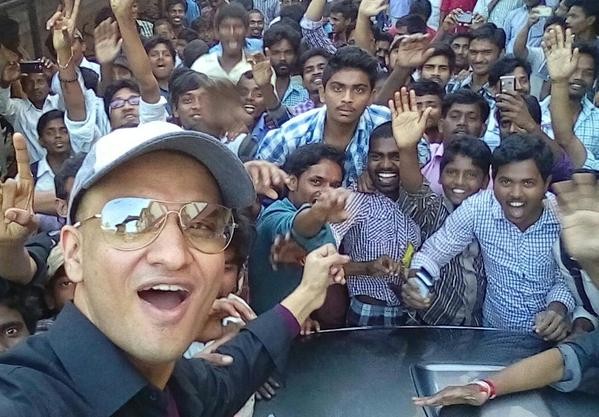 "Surya Vs Surya" has collected approximately ₹7.50 crore in box office collections worldwide in its eight-day extended first week, breaking all records of Nikhil Siddhartha's previous releases.
Check out Nikhil Siddhartha's Selfie Tour Photos
Released in around 500 screens across the globe, "Surya Vs Surya" opened to a fantastic response and registered an average of 80 per cent occupancy in both single screen and multiplexes on the first day. It ran to packed houses in many areas. With the superb collection, the movie has become the biggest opener for Nikhil Siddhartha, beating the record of his last outing "Karthikeya".
"Surya Vs Surya" garnered positive reviews from both film critics and movie buffs and the strong word-of-mouth helped the movie fare well at the ticket counters on the following days. The film raked in approximately ₹5 crore nett in box office collections worldwide in its four-day extended opening weekend.
The collections of "Surya Vs Surya" dropped on Monday, being a working day. The movie maintained rock-steady on the following weekdays. The film has collected approximately ₹2.50 crore nett at the worldwide box office on the weekdays, taking its eight-day total to ₹7.50 crore nett.
Nikhil Siddhartha has scored back-to-back hits with "Swamy Ra Ra" and "Karthikya". Trade experts had predicted that "Surya Vs Surya" would be his hat-trick success. As expected, the film has turned out to be another money spinner in his career. In fact, it has smashed many records of his previous movies. Trade experts predict that it will become the highest grosser of his career.
The actor is thrilled over the wonderful response for "Surya Vs Surya". He has thanked viewers in his tweet. "Guys nd gals i did a different film to try bring freshness... Im stunned by the way the ppl have received it... Thank u thank uuu thank uuuu. Thrilled with ur belief in me by coming packing the theatres today... I will always work hard 24*7 to impress u all.. #Thanks #SuryaVsSurya."
On Sunday, Nikhil set out on a selfie tour. He visited many theatres in different cities of Andhra Pradesh and Telangana and thanked film goers. He also took selfies with viewers and posted some of those photos on Twitter. He also visited Lord Venkateshwara temple with the team of "Surya Vs Surya" and offered his hair to God. He posted photos featuring his tonsured look.