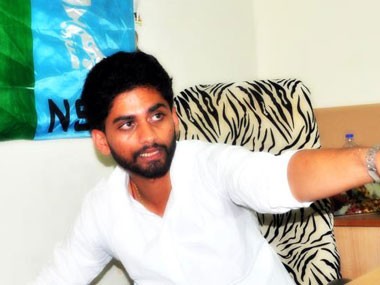 The Congress party has suspended Suraj Thakur, the Mumbai President of Congress student wing - National Students Union of India (NSUI) - for allegedly dancing naked at a party function, reported CNN-IBN.
It is not clear as to what prompted Thakur to do the "dirty dancing". Some reports suggest that there might have been some sort of ragging with the seniors asking the new comers to button down their shirts.
A message posted on the NSUI's official facebook page read, "NSUI Mumbai President Suraj Thakur has been suspended on the grounds of indiscipline."
NSUI further stated, "NSUI stands strongly against anyone who flouts discipline. Stringent actions will be taken up against such individuals."
"The organization won't tolerate any form of indiscipline; stringent actions will be taken up."
The incident took place on 14 April in the Mumbai suburb of Kandivli. Two other office bearers, who were reportedly drunk during the function, were also suspended. A YouTube video of the incident was earlier uploaded, but it has now been removed from the site.
Thakur came into prominence when he led clamorous protests against a book of Rajiv Gandhi's alleged killer AG Perarivalan in May 2011. He was re-elected as the NSUI Mumbai President in December 2012.
At this point, details about the alleged vulgar act are hazy, and more information is awaited. The incident has come at a time when the Congress is already facing pressure from the opposition following allegations against two of its ministers. Law Minister Ashwani Kumar is under the scanner for making changes to an affidavit submitted by the CBI to the Supreme Court, in connection with the Coalgate case.
Railway minister Pawan Kumar Bhansal is also under fire in connection with an alleged bribery scandal involving Bhansal's nephew Vijay Singla.