Surabhi Lakshmi gained recognition for her performance in the Malayalam movie Minnaminungu - The Firefly. The actress bagged the prestigious National Film Award for best actress after facing tough competition from many talented artistes in the country. Now, the movie that impressed the jury was finally released in 28 theatres in Kerala on Friday, July 21.
Read more: Surabhi Lakshmi, other celebs at 64th National Film Awards
In a Facebook live video, Surabhi has requested everyone to watch the movie at their nearby theatres and the actress will be attending the show at Sri theatre in Thiruvananthapuram, the capital city where a majority of the movie's portion was shot.
Also read: Surabhi Lakshmi divorced; her ex-husband posts their 'last selfie'
More about Minnaminungu
Minnaminungu - The Firefly is the directorial venture of Anil Thomas, and narrates the story of a single mother who lives in Kerala. The struggles she faces to raise her daughter in the society form the gist of the movie. It also stars Prem Prakash and Rabecca Santhosh in main roles.
But how well do award-winning movies perform at box office?
Winning a national award does not guarantee a box office success. The stereotype that award-winning movies don't perform well commercially has been proved time and again and Minnaminungu is no exception. This prejudice is clearly visible in Kerala as the movie got only 28 theatres for screening. Award-winning movies are often considered to have slow narration and little background music.
Minnaminungu has hit the theatres in the state with three other Malayalam movies, and from the data available on Google Trends, it is evident that the Surabhi-starrer (blue colour in the chart) is not even a topic of discussion online when compared with the other releases --former Indian cricketer Sreesanth's Team 5, Farhaan Faasil's Basheerinte Premalekhanam and Pranav Ratheesh's Theeram.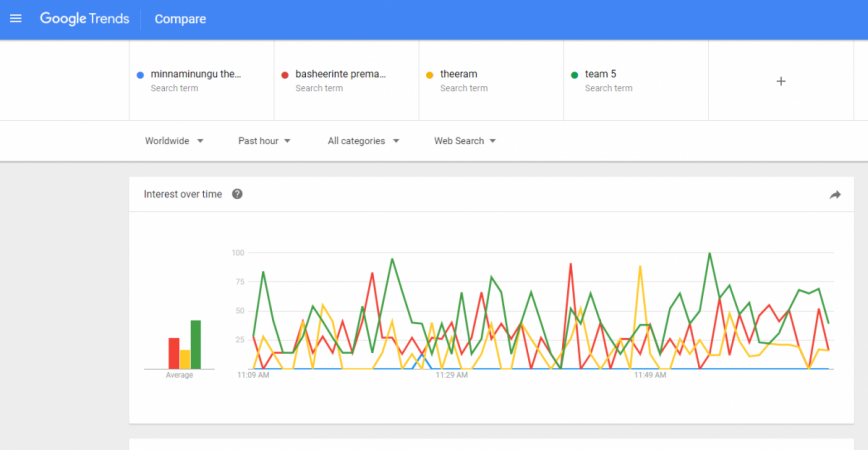 Will Minnaminungu - The Firefly make a successful box office run or will it be yet another "award movie" that just bombed? Only time will tell.
Here's the Kerala theatre list where Minnaminungu is screened:
Watch the trailer of Minnaminungu here:
-