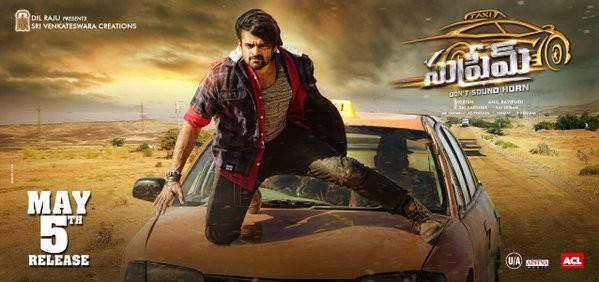 Sai Dharam Tej's fourth film "Supreme," which was released around the world on Thursday, May 5, has received mixed reviews and decent ratings from critics.
Written by Anil Ravipudi, "Supreme" is about taxi driver Balu (Sai Dharam Tej), who takes care of a young boy (Mikhail Gandhi). But the boy is kidnapped by a dreaded gang headed by two people (Kabir Singh and Ravi Kishan) and taken to Odisha. How he overcomes all the odds to save the boy forms the crux of the story.
The critics say Anil Ravipudi has chosen a tried-and-tested story for "Supreme," but he has made it engaging by equally spreading commercial ingredients and twists and turns. The comic scenes keep the audience engaged in the first half of the movie. The second half is very high on emotional quotient, but it is dragging and predictable in parts.
Sai Dharam Tej has delivered a wonderful performance as a cab driver and shown a lot of improvement in his acting over his previous movies. Rashi Khanna has done justice to her role and impressed with her comic and action quotient. Vennela Kishore, Pruthvi and Prabhas Seenu's comic scenes are big assets of the film, say the critics.
Child artiste Mikhail Gandhi has delivered a wonderful performance, which is one of the highlights of "Supreme." Ravi Kishan, Shaking Seshu, Rajendra Prasad and others have also done justice to their roles. The movie has good production values, and music and cinematography are attractions on the technical front, say the critics.
The Anil Ravipudi-directed movie has been rated an average of 2.86 out of 5 stars. Here are some critics' verdicts and ratings, in the "Supreme" review roundup:
An old story, but 'Supreme' has its moments. Comedy and sentiment are decent. First half is engaging, while second half falters.
The first half of the film is largely entertaining with good comedy. There is a little drag just before the interval bang. However the proceedings in the second half turn wayward as the film moves on a single thread. Logic goes for a toss at many places. The comedy hide and seek fight in villain's den in the second half and the body builders fight episode are interesting. Finally, Supreme is yet another routine mass masala which only banks on entertainment from start to stop. It will probably go well with the mass audience in the holiday season.
With Supreme, Sai Dharam is surely going to go one step higher towards his stardom. Entertaining comedy through out the film and some well executed emotions are basic assets. If you ignore the predictable story line and go with the flow of the film, Supreme is a typical popcorn entertainer which will not disappoint you this weekend.
Supreme is an out and out commercial entertainer that banks heavily upon comedy. There is action, romance, sentiment and everything that we expect out of a commercial film. However except for comedy in parts and few action scenes there is nothing that really impresses the viewers.
With entertaing and racy first half second half seems to be little disappointing. It has more action blocks. Director Anil Ravipudi who did a superb job with his debut movie has done a good job with this movie. He should have taken much care of second half. Second half is a bit low on entertainment. To sum up, Supreme is an entertaining ride!!!