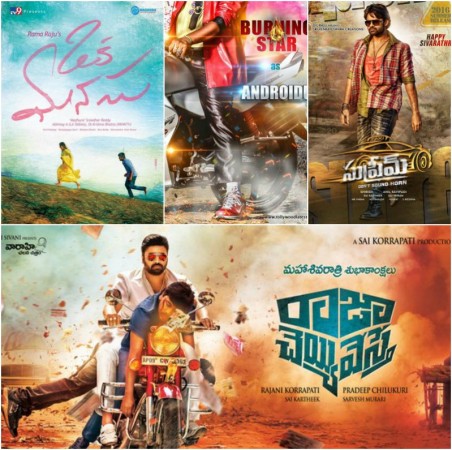 Rana Daggubati, Sai Dharam Tej, Lakshmi Manchu and few other Tollywood celebs have wished their fans on the occasion of Maha Shivarathri, which witnessed the release of posters of "Supreme," "Oka Manase," "Raja Cheyyi Vesthe" (RCV) and "Androidu."
Maha Shivaratri is a Hindu festival celebrated annually in reverence of the God Shiva, who saved the universe by drinking the poison that emerged from the churning of the ocean. This festival is celebrated during the night by keeping a "jaagaran." This festival falls on Monday and a host of Telugu celebs took to their Twitter and Facebook pages to wish their fans this morning.
Lakshmi Manchu: Wishing you all a very happy mahashivarathri. May shiva continue to accept all of who we are. Shamboooo shamboo
Rana Daggubati: హర హర మహదేవ శంబొశంఖర....!!! మహ శివరాత్రి శుభాకాంక్షలు....!!!
Sai Dharam Tej: మీకు మీ కుటుంబ సభ్యలకు మహా శివరాత్రి శుభాకాంక్షలు
Baahubali Team: Wishing everyone a very Happy #Mahashivratri
Pia Bajpai: ॐ नम: शिवाय् wish u all a very happy #Mahashivratri
Vennela Kishore: #Mahashivratri shubhakankshalu
Anil Ravipudi: Happy shivarathri☺
Naga Shaurya: Happy #Mahashivratri to everyone
Producer Madhura Sreedhar: Mahaa Siva Raathri subhakankshalatho....Here is the Pre-Look of OKA MANASU.... Thank you all...!
People in the Telugu film industry believe that Maha Shivaratri is an auspicious day to launch the first look posters and teasers of their movies. Hence, the makers of "Supreme," "Oka Manase," "Raja Cheyyi Vesthe" (RCV) and "Androidu" have unleashed the first look of these movies on internet today. Here are the posters:
మీకు మీ కుటుంబ సభ్యలకు మహా శివరాత్రి శుభాకాంక్షలు pic.twitter.com/pJ2ASvrjmh

— Sai Dharam Tej (@IamSaiDharamTej) March 7, 2016
Mahaa Siva Raathri subhakankshalatho....Here is the Pre-Look of OKA MANASU.... Thank you all...! pic.twitter.com/HZPv3osXVw — Madhura Sreedhar (@madhurasreedhar) March 7, 2016