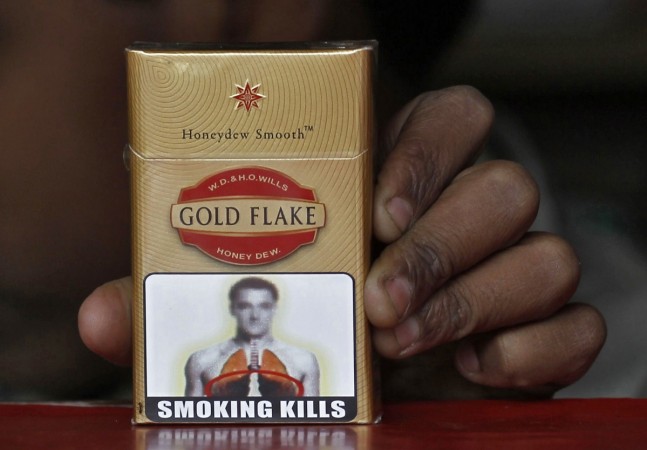 In a big blow to India's $11-billion tobacco industry, the Supreme Court on Wednesday directed cigarette companies to immediately follow the new government rules of large-size pictorial health warnings.
"The tobacco industry should not violate any rule prevailing as of today," a two-judge bench of the Supreme Court was quoted as saying by Reuters.
It further said the Karnataka High Court should hear all the pleas challenging the new rules.
A representative group of beedi makers based in South India had approached the Supreme Court on April 8 challenging the new rules.
The tobacco companies are up in arms against the government directive issued on April 1 that makes it mandatory for 85 percent of cigarette or tobacco packs to be covered by health warnings.
India's largest cigarette/tobacco manufacturing companies — ITC Ltd, Godfrey Philips and VST Industries — had announced a two-week-long shutdown against the government decision. Even as the companies resumed production of cigarettes and other tobacco products, they refused to abide by the new government regulations and instead challenged the order in various courts across the country.
The debate over pictorial warnings heated up when a parliamentary panel backed the tobacco companies and said the government decision was harsh.
The Tobacco Institute of India (TII) , a representative body of various tobacco and cigarette manufacturing companies, said the government decision would impact the livelihood of 45.7 million people associated with this industry in India.
It also said the regular tax imposition has led to a plunge in production to 95 billion cigarette sticks per year from 110 billion sticks.
ITC Chairman Yogesh Deveshwar had last week alleged that the anti-tobacco lobby and a few Indian NGOs urging government to implement the largee size health warnings were acting at the behest of foreign funders from the U.S.
The World Health Organisation (WHO), meanwhile, has backed the Indian government and called the current debate in the country worrisome. As per the WHO Global Audit Tobacco Survey, about two in three adults (64.5 percent) in India noticed advertisement or promotion of tobacco products. The survey said three in five current tobacco users in India (61.1 percent) noticed the health warnings on tobacco packaging and one in three tobacco users (31.5 percent) thought of quitting tobacco because of the warning label.