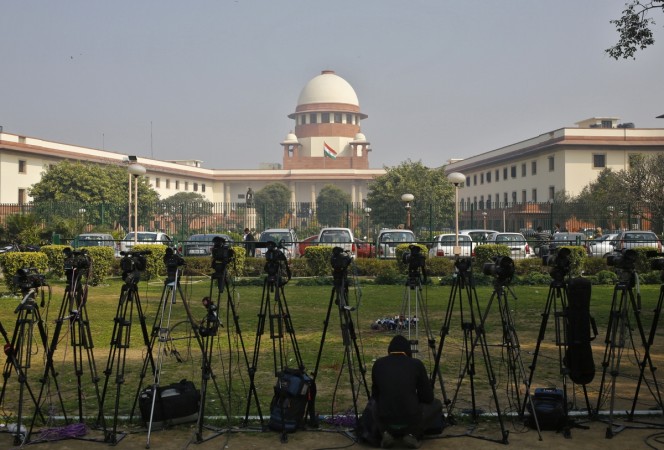 The Supreme Court (SC) on Monday declared that the Sharia Courts are unconstitutional and the fatwa or legal opinions issued by them are illegal.
The SC bench headed by Justice C.K. Prasad ruled out its verdict, saying that neither Darul Qaza (or Islamic Courts) nor any Mufti (or Islamic scholar) can issue a fatwa against the fundamental rights of an individual.The court said that the Muftis can issue fatwa to those who are willing to hear but cannot force them to follow it, as the law finds it illegal.
"Sharia courts are not sanctioned by law and there is no legality of fatwas in this country. No religion is allowed to curb anyone's fundamental rights," NDTV quoted a C K Prasad.
The ruling came after the hearing on a petition filed by Delhi-based advocate Vishwa Lochan Madan, who challenged the Islamic courts operating as a parallel judicial system in India. He had argued that the Muftis in these court issues fatwas against the fundamental rights of the Muslim citizens.
Citing the example of Imrana, Madan alleged that the Sharia courts interfere in the personal life of Muslims.
28-year-old Imrana was raped by her father-in-law in 2005 in Charthawal village in the Muzaffarnagar district of Uttar Pradesh. Later, the Muftis disregarded her marriage with her husband and ordered her to marry her father-in-law, citing the Muslim law that sees it as adultery and not rape.
In February this year, the SC had declined to interfere with the Sharia Law saying that they cannot intervene in the religious beliefs of any community. However, in its fresh judgement SC declared that the fatwas issued by Muftis are illegal, so they cannot force it upon an individual. Although it declared the Sharia courts as unconstitutional, SC rejected Madan's petition asking to ban the courts.
Several other Fatwas Issued against Muslim Women in India
In April 2010, the Muftis of leading Islamic seminary Darul Uloom Deoband issued a fatwa against modelling by Muslim women, citing that modelling is un-Islamic, according to news reports.
In yet another fatwa a month later in 2010, Deoband declared that Islam does not permit Muslim women to work with male colleagues, and that they violate the Sharia law. It said that the Muslim women must wear veil to office and should never indulge in conversation with men.
A fatwa was issued against cartoons and animated shows in 2013. The Muftis said that the animated shows humiliate and mock Allah's creations. They said that Islamic law prohibits anybody from mocking Allah's creation and believes that the cartoons violate the law. The Muftis ordered the children and others not to watch it, according to news reports.
Another fatwa issued in September 2013 declared that photography and video recording of marriages is un-Islamic. The Muftis claimed that the Islamic law considers photography of either oneself or others a sin; it is only permissible for an identity card and passport.
Mufti Maulana Bashir-ud-Din issued a fatwa against a girl band Pragaash in February 2013. He said that the Islamic law prohibits women from singing in front of others or in public, and said that they should sing in their homes and must wear burqa (veil) at all times.