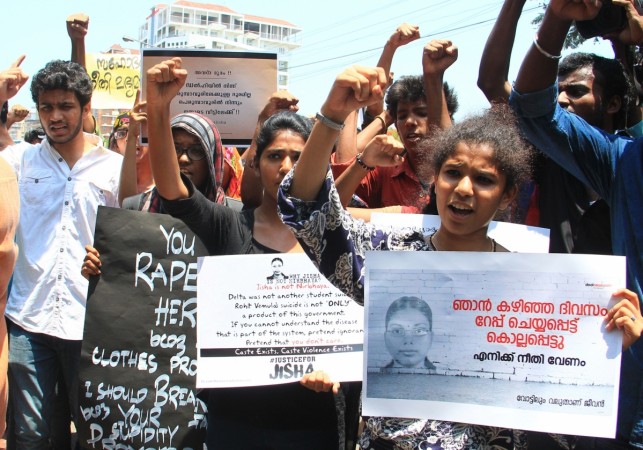 The central government needs to formulate a national policy for compensating rape survivors, the Supreme Court ruled on Thursday, according to a report by Press Trust of India. The top court noted the existing Nirbhaya Fund at the Centre as insufficient, inadequate and limited to "lip service."
"Different states have different schemes. There is no national plan as how the rape victims are to be compensated. The Union of India must ensure that adequate relief is being provided to the victims of sexual offences," bench of Justices P.C. Pant and D.Y. Chandrachud ruled.
According to the National Crime Records Bureau's latest figures, there were 37,413 rape cases registered in the country in 2014. However, Equal Times reported that 3,37,922 cases of violence against women were witnessed in India in 2014 that included cruelty and abduction apart from rapes.
The bench also asked states and UTs to submit the status of their respective victim compensation schemes and the number of rape victims compensated annually. Section 357(A) of the Criminal Procedure Code (CrPC) mandates every state to submit its compensation schemes to the Centre for rehabilitating crime victims.
Currently, 25 out of 29 states have notified their victim compensation scheme (VCS), however, their implementation remains a concern, according to Indira Jaising, senior advocate and amicus curiae for the top court.
Naturally, states' schemes lack uniformity, but a bigger concern is the lack of clarity if adequate funds were allocated in pursuance to the notification of the said schemes and the actual number of rape victims who are compensated under the said schemes. "Some states pay Rs. 10 lakh as compensation while few others pay as less as Rs. 50,000 to such survivors," Jaising said about rape survivors.
The bench highlighted that some states even provide interim assistance to victims from particular class/categories just as soon as an FIR was registered with the police. To sum up the best practices, the court noted: "There has to be some national model on this."
Best Practices
Many of the petitioners (of the total 6) for women safety and security filed within one year of the ghastly Nirbhaya rape case in 2012 have even sought for maintaining a national register for sexual offenders.
Jaising, however, considers such a registry as not desirable and intrusive of right to privacy. She opined that many suggestions across quarters needed to be referred to the law commission for further comparative study with the practices in other countries, reported PTI.
The amicus curiae also noted that acquittal rates in rape cases were very high as witnessed dropped out from testifying or the delay in justice took its toll on the victim's family. Therefore, Witness Protection Program Scheme is the need of the hour, she said, referring to a similar program in Delhi.
One-stop crisis centre for rape survivors in every district has seen abysmal implementation under the scheme; only 14 of India's 653 districts have such centres.
Nor has transport departments clamped down regulations on vehicles with tinted glasses and importantly their numbers, especially buses plying under All India Tourist Vehicle permits. Data also remains inadequate on radio taxi, web-based cab aggregators and also how these services are regulated across states especially with regard to women safety.