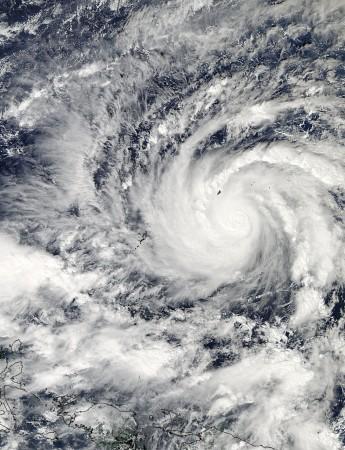 A year after super typhoon Haiyan ravaged Philippines, the locals are now bracing themselves for Hagupit, said to be a 'very, very powerful typhoon'.
Typhoon Hagupit is scheduled to make landfall on Saturday around the Eastern Samar province, and massive evacuations are underway to ensure minimal casualties, after nearly 7,000 people were killed or went missing during Haiyan last November.
Haiyan is regarded as the most powerful typhoon to have hit land.
By the time Hagupit hits land, it is likely to be upgraded to a Category 5 storm with windspeeds gusting up to 170 km per hour. Hagupit, which locally means Ruby, is currently seeing wind speeds up to 195 kph (120 mph) with gusts of up to 230 kph.
"This is going to be a very, very powerful typhoon," Jon Erdman, a meteorologist told NBC News.
"We have no more excuse, we have gone through Yolanda (Haiyan), and to lose that many lives, it's beyond our conscience already," Jerry Yaokasin, vice-mayor of Tacloban said, BBC reported.
Tacloban was the worst affected region during typhoon Haiyan.
On Thursday, schools and offices were shut, while residents scrambled to buy essentials before the storm arrives.
"People are buying food stuff, preparing fuel and gasoline supply. People are now conscious of preparations," Roger Mercado, governor of Southern Leyte province local radio DZMM, Reuters reported.