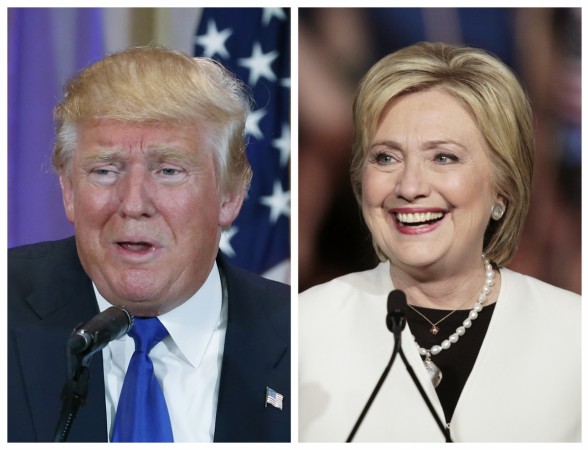 Democrat Hillary Clinton and Republican Donald Trump became the front-runners in the race for the United States presidential nominations by reportedly winning seven states each in the Super Tuesday state-by-state contests.
The 68-year-old Democratic candidate won in Alabama, Arkansas, Georgia, Tennessee, Texas, Virginia and Massachusetts, the state where her party rival U.S. senator Bernie Sanders had hoped for a victory. The voting was in 11 states.
Taking on Trump after the results, Clinton was quoted as saying by Reuters: "The stakes in this election have never been higher and the rhetoric we're hearing on the other side has never been lower... Trying to divide America between us and them is wrong, and we're not going to let it work."
On the other hand, the 69-year-old New York billionaire, who also won in seven states, including Alabama, Arkansas, Georgia, Tennessee, Virginia, Massachusetts and Vermont, claimed to be a "unifier." "This has been an amazing night," CNN quoted Trump as saying at his Palm Beach resort.
"I am a unifier... I would love to see the Republican Party and everybody get together and unify and when we unify, there's nobody that's going to beat us," Trump was quoted as saying by Reuters.
In the Republican race, Trump's rivals Ted Cruz won Oklahoma, Alaska and his home state Texas, while Florida senator Marco Rubio achieved his first victory in Minnesota. Among the Democrats, Vermont senator Bernie Sanders won Colorado, Minnesota and Oklahoma and his home state.
The nomination contest is to happen in 35 more states before the U.S. goes for presidential elections on Nov. 8, as President Barack Obama's presidency ends in 2017. The rivals of Trump and Clinton now focus on defeating them in Michigan, Florida and Illinois.
The candidates who contested on Super Tuesday were aiming to win delegates who will vote for party candidates at their respective conventions. The convention for the Republicans will be held between July 18 and July 21 in Cleveland, while the Democrats will vote between July 25 and July 28 in Philadelphia, according to Reuters.