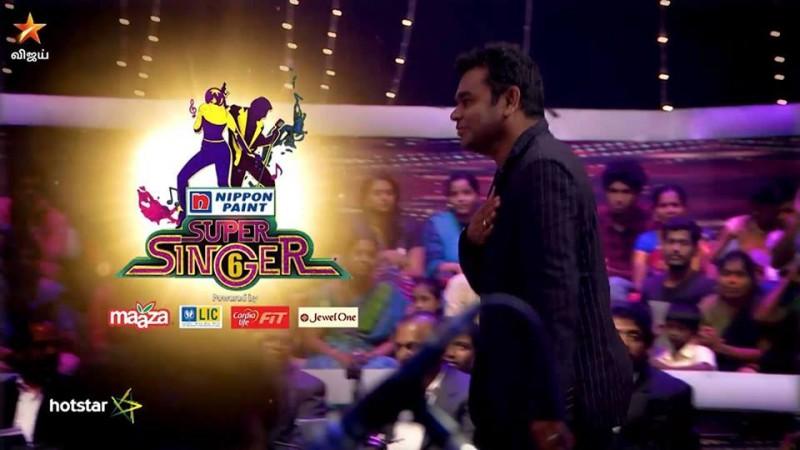 The set finale of Vijay TV's Super Singer 6 will be aired on Saturday and Sunday (July 7 and 8). Srikanth, Rakshitha, Senthil Ganesh, Sakthi, Malavika and Anirudh have entered the last stage of the singing competition.
It is a pre-finale before the grand finale to be held next weekend. The idea behind this round is to give clear picture about all the contestants to the audience, whose votes will decide the winner along with the marks given by the judges.
The finalists performed to the below songs in the presence AR Rahman, Snehan, TL Maharajan and Manikka Vinayagam.
Anirudh - Mazhaiye Mazhaiye song from June R.
Malavika – Maraindhiirundu Paarkum song from Thillana Mohanambal.
Sakthi – Aarariraro song from Raam.
Rakshita – Konjam Nilavu song Thiruda Thiruda.
Srikanth – Raasali song from Achcham Yenbadhu Madamaiyada
Senthil - Aalaporaan Thamizhan from Mersal.
There will be one round of performances on Sunday.
For the first time in the history of the show, six contestants have entered the finale. Srikanth, Rakshitha, Senthil Ganesh and Sakthi were first made it to the last stage of the competition. The channel brought a twist to the show through the special wild-card entry round to select two more contestants.
Enjoyed watching #SuperSinger Prefinals today. There were some intense moments on stage and off. ARR sir was such a sport and the musicians, backing vocals were just Bang on! OMG And the contestants were giving their Best!

— Haricharan (@HaricharanMusic) July 8, 2018
Rajalakshmi, Jayanthi, Sirisha, Malavika, Aparna, Anirudh, Keshav, Sudharshan, Ashwin and Ajay Krishna had participated in the wild-card entry round. Among the 10, Malavika and Anirudh were given the entry for the last stage of Super Singer 6, which saw the participation of over 20 aspiring singers from different background and age.
However, a section of the audience felt that Sirisha and Keshav deserved more than Malavika in the last stage of the game. Find a few tweets posted by furious netizens, who raised objection over the inclusion of Malavika.
The sixth season of Super Singer 6 had kicked-off on January 21 in the presence of two-time Oscar Award-winning musician AR Rahman. The show anchored by Priyanka Deshpande and Ma Ka Pa Anand is judged by Unni Krishnan, Anuradha Sriram, Benny Dayal and Shweta Mohan.