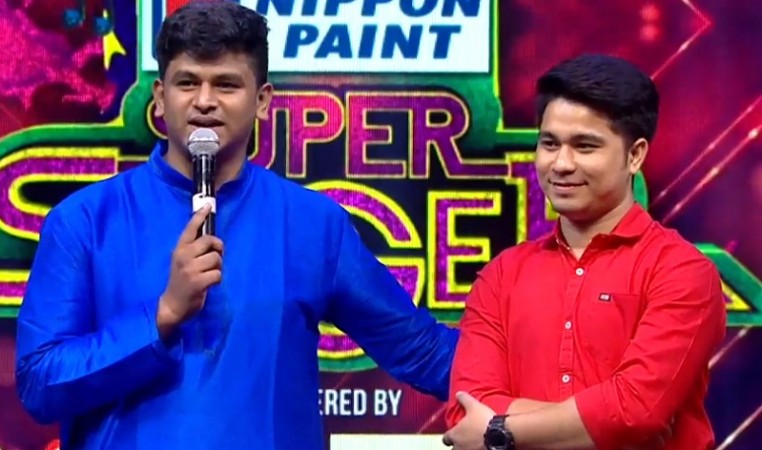 Vijay TV's Super Singer 6, which kick-started on January 21, is garnering a huge attention of the viewers once again by roping in the talented bunch of singers with different backgrounds. The show anchored by Priyanka Deshpande and Ma Ka Pa Anand is judged by Unni Krishnan, Anuradha Sriram, Benny Dayal and Shweta Mohan.
22 singers – Vinay, Anirudh, Sunny, Senthil Kumar, Rajalakshmi, Greeshma, Praveen, Ashwin Sharma, Mohamed Naseer, Ajay Krishna, Malavika, Sreelakshmi, Sakthi, Sreekanth, Keshav Vinodh, Sridevi, Jayanthi, Rakshitha, Sireesha, Aparna, Sudharshan and Viji – were divided into two teams.
After the completion of every round, the four judges would announce the marks. However, the losers would not be pushed to the danger zone.
For instance, in the final challenge, Senthil Ganesh earned 34 marks out of 40 and defeated Viji by just one mark. But she got second highest scores among the participants and she was not pushed to the danger zone. But the least performing candidates from both the teams would be nominated each for the elimination.
In the end, Sunny and Vinay were pushed to the danger zone, while Senthil Kumar won the Golden Voice of the Week Award along with a prize of Rs 10,000.
| | |
| --- | --- |
| Matches | Winner |
| Vinay vs Anirudh | Anirudh |
| Rajalakshmi vs Greeshma | Rajalakshmi |
| Praveen vs Mohamed Naseer | Naseer |
| Malavika vs Sakthi | Sakthi |
| Sreekanth vs Keshav Vinodh | Keshav |
| Sridevi vs Jayanthi | Sridevi |
| Ashwin Sharma vs Ajay Krishna | Ashwin |
| Sreelakshmi vs Rakshitha | Rakshita |
| Sireesha vs Aparna | Sireesha |
| Sudharshan vs Sunny | Sudarshan |
| Viji vs Senthil Ganesh | Senthil Ganesh |