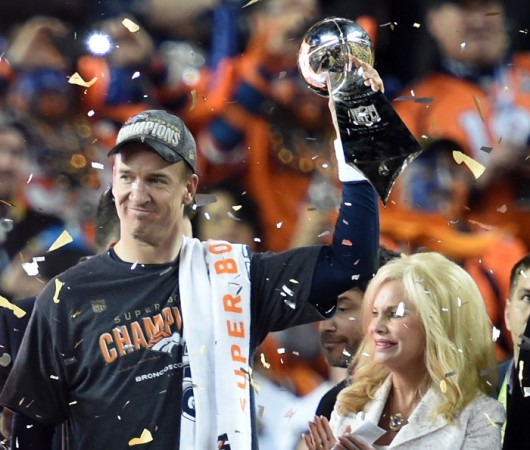 If the Denver Broncos were going to beat the Carolina Panthers in Super Bowl 50, it was not going to be via Peyton Manning's arm, it was going to be by that seriously-stifling defence.
The defence had carried Denver to the Super Bowl, and when it mattered most, they stepped up again, pulling out play after play after play to give the Broncos a 24-10 win over the Panthers in Santa Clara, California.
[Get the quotes from Peyton Manning about retirement HERE]
Cam Newton, the man expected to make the crazy plays for the Carolina Panthers, was sacked seven times by the Denver Broncos defence, with the most important one of them all coming with a little over seven minutes remaining in the game.
With the score at 16-10 in the Broncos' favour, but with Carolina having possession, looking to get the touchdown and conversion to move into a late lead, Newton, not only got sacked by the excellent Von Miller, the Super Bowl MVP, but got the football taken off him, with Denver recovering yards from the goalline to virtually kill off the game. Newton managed to complete just 18 of 41 passes in this Super Bowl for 265 yards as that brilliant Broncos defence ran wild. The all-round quarterback had 45 running yards in six carries.
A minute or so later, and that six-point lead bulged all the way to 14, as CJ Anderson barged his way in from a yard out for a touchdown, before the two-point conversion was completed off of Manning's throw – fitting perhaps that the last score came via one of the greatest arms the sport has seen.
Newton did his best to fashion a quick score for the Panthers to somehow keep the game alive, but another sack, this time from Demarcus Ware, put paid to those hopes and the celebrations began, with Manning, who completed 13 of 23 passes for 141 yards, with an interception, getting his second Super Bowl title, and that legacy talk just getting better.
We will know soon enough if it will be Manning's final game, but if it is, what a way to go.
Watch the highlights of Super Bowl 50 HERE