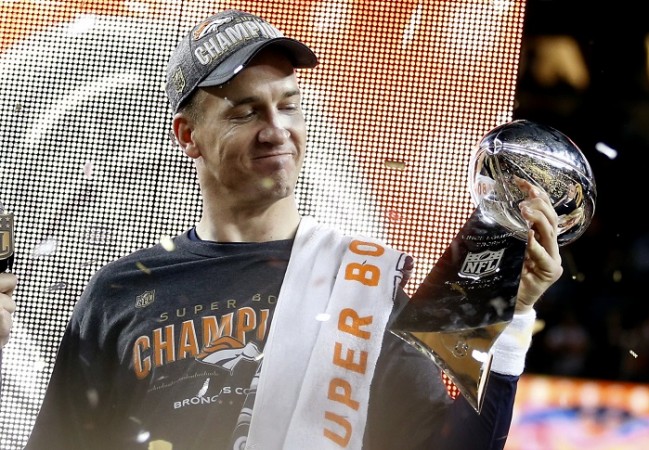 Peyton Manning decided against making an emotional decision and with it the legendary quarterback kept everyone under suspense over his future, after the Denver Broncos won Super Bowl 50 with a 24-10 victory over the more-fancied Carolina Panthers.
Manning was not the star of the show in this mega matchup, as the Broncos defence completely ruled the roost, sacking Cam Newton seven times and forcing four turnovers off the Carolina Panthers to setup the future hall of famer's second Super Bowl title.
There was a lot of discussion going into the game over whether Super Bowl 50 would be Manning's last, but when asked that inevitable question up on the pedestal, Manning, with his hands on the Vince Lombardi Trophy, refused to give an affirmative answer either way.
"I'll take some time to reflect," Manning was quoted as saying by ESPN. "I've got a couple of priorities first. I want to go kiss my wife and my kids. I want to go hug my family. I'm going to drink a lot of Budweiser tonight, Tracy. I promise you that.
"I'm going to take care of those things first and definitely going to say a little prayer and thank the man upstairs for this great opportunity and I'm just very grateful."
Manning said he was taking advice from his former coach Tony Dungy over making such big decisions, with the Broncos quarterback determined to let his head, not his heart, decide on his future.
"I got some good advice from Tony Dungy, who's going into the Hall of Fame and is my old coach. He said don't make an emotional decision," Manning added.
"This has been an emotional week, an emotional night, and I've got a couple of priorities. I want to go celebrate with my family and teammates, and I'm going to drink a lot of beer. ... Von Miller [who was named the Super Bowl 50 MVP] is buying."
As far as Manning's mother, watching from the stands, along with the rest of his family, including younger brother Eli, is concerned, though, this is the right time for her son to retire and call time on an illustrious career.
"I want Peyton to retire," Manning's mother Olivia said, when she was put the retirement question on the field after the game.