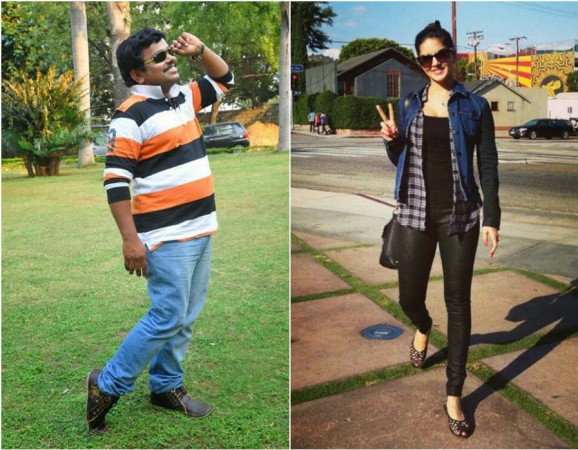 "Hrudaya Kaleyam"-fame Sampoornesh Babu has found a girlfriend in Bollywood actress Sunny Leone. Yes, you read it right, but only in reel life.
It has already been reported that Sampoornesh Babu is making a special appearance in actor Manchu Manoj's much-awaited movie "Current Theega", which marks the debut of Sunny Leone in Tollywood. The comedy actor will reportedly appear as the Indo-Canadian star's boyfriend in the movie.
Sampoornesh's brief appearance will be one of the highlights of "Current Theega". "The director has included a comic episode between Sampoornesh, Leone and Manoj, which is likely to be one of the highlights in the film. Although his screen time is less than five minutes, Sampoornesh Babu is all set to entertain the audience with his comic timing," Deccan Chronicle reports as a sources saying.
Sunny Leone plays a school teacher in the film, which is the remake of Tamil movie "Varutha Padatha Valibar Sangam". The actress managed to impress all the members of the film unit with her professionalism. "She was extremely punctual and professional. We were all surprised that she maintained professional attitude on sets throughout the course of the shoot," director G Nageshwar Reddy told IANS.
"Current Theega" has been produced by Manchu Vishnu under the banner of 24 Frames Factory. It is a big-ticket movie, which has been made with a whopping budget of over ₹25 crore. Reports suggest that Sunny Leone has been paid ₹75 lakhs for her cameo in the movie. Her presence has added a curiosity to the film.
"Current Theega" was slated to hit the screens across the globe on 17 October, but its release was postponed following the devastation caused by Cyclone Hudhud in Vizag. On 24 October, Manchu Manoj, who participated in the relief work in the city, tweeted, "This Oct 31st #CurrentTheega Releasing with High Voltage Love Comedy And little Action Bless Us :-)"