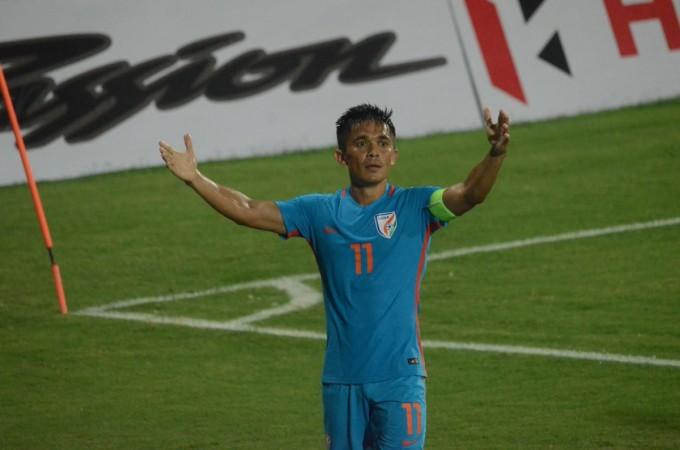 Indian football team captain Sunil Chhetri equaled Argentina great Lionel Messi at the second spot on the list of active international goal-scorers after scoring a brace in India's 2-0 win over Kenya in the Intercontinental Cup final in Mumbai on Sunday, June 10.
The 33-year-old is tied on goals with Messi at 64, 17 behind Portugal superstar Cristiano Ronaldo. Notably, in terms of average goals per match, the Bengaluru FC captain has eclipsed both the Barcelona and the Real Madrid greats.
Chhetri, with 64 goals from 102 matches, has been scoring at 0.61 while Messi has scored 64 from 125 matches at 0.52. Ronaldo has scored 81 from 149 matches at 0.54.
The celebrated Indian skipper is now joint 21st on the list of most international goals, one behind Ivory Coast legend Didier Drogba. With 104 goals from 149 matches, Iran's Ali Daei leads the all-time scorers list.
Chhetri had played down comparisons with Messi and Ronaldo despite managing to be as efficient as the two global superstars when it comes to getting the goals for the national team.
"I don't take it seriously. It's not even fair. The two players who are above me are completely world stars. I am a big fan of Messi and Ronaldo. There is a massive difference between them and us. There is no comparison at all," Chettri was quoted as saying by India Today.
However, football fans on Twitter heaped praise on Chhetri, lauding the captain's contribution to the sport in the country.
Notably, the Bengaluru FC skipper, let down by a paltry crowd for the tournament opener against Chinese Taipei, took to social media and made a heartfelt plea to the fans, urging them to support the team. So did the football fans as tickets for the last three games, including the final were sold out.
IBTimes, India has compiled a list of reactions to Chhetri's record-equalling performance in the Intercontinental Cup final. Check them out here.
Sunil Chhetri makes it 2-0. On a hat-trick. He equals Messi's record of 64 international goals, second only to Ronaldo's among those currently playing. Against a different breed of opponents, of course. Still, what a feat. #INDvKEN #IntercontinentalCup2018 ?? ?? ??

— Abhijit Majumder (@abhijitmajumder) June 10, 2018
He's not Indian Messi or Indian Ronaldo.. He's Sunil Chhetri nd he's proud of India ??

Salute you captain @chetrisunil11 ?#SunilChhetri pic.twitter.com/CCJjG48DRl

— Sαvαη ♔ (@imsavan08) June 11, 2018
#INDvKEN
Indian captain @chetrisunil11 ties with Leonel Messi on highest goal scorers amount active players. It's a great feat. Proud of our captain .

— Arunesh Narayan (@narayanarunesh) June 10, 2018
Proud of you #Sunil
Highest active international goalscorers' list:
1. Ronaldo ?? - 81
2. Chhetri?? - 64
2. Messi?? - 64
4. Villa?? - 59
5. Dempsey?? - 57#SunilChhetri goes 2nd on this prestigious list.#IndianFootball #INDvKEN pic.twitter.com/rkr1DokQvz

— Ashwani Dubey (@AdvAshwaniDubey) June 11, 2018
Chhetri equals Messi's international goals record, looks like they have some kind of "Che-mes-tri" here. #INDvKEN #SunilChhetri

— Baba Yaga (@Baba_Yaaga) June 11, 2018
One Sunil Chhetri, there's only one Sunil Chhetri! ??

Cristiano Ronaldo - 81 Goals ??
Sunil Chhetri - 64 Goals ??
Lionel Messi - 64 Goals ??#BackTheBlue pic.twitter.com/iAN2o8qPxn

— FC Goa (@FCGoaOfficial) June 10, 2018
Sunil Chhetri has equalled Lionel Messi with 64 international goals. Chhetri has a better goal per game ratio than Messi and is now joint 2nd highest active international football goal scorer.

India is proud of you @chetrisunil11#JaiHind ??#chhetri100 #sunilchhetri #INDvKEN

— Jagrati Shukla (@JagratiShukla29) June 10, 2018
Chhetri was in sublime form throughout the quadrangular tournament, scoring eight goals in four matches as India clinched the maiden title.
The "captain marvel" gave India the early lead, sending the 8,990-strong crowd at the Mumbai Football Arenaa into frenzy. After winning a free-kick just outside the box, he came out of the crowd and connected Anirudh Thapa's cross to drill one into the low corner.
Chhetri doubled India's lead as in the 29th minute, chesting down a long pass from centre-back Anas Edathodika and slotting it past the Kenyan keeper, this time with his left foot.