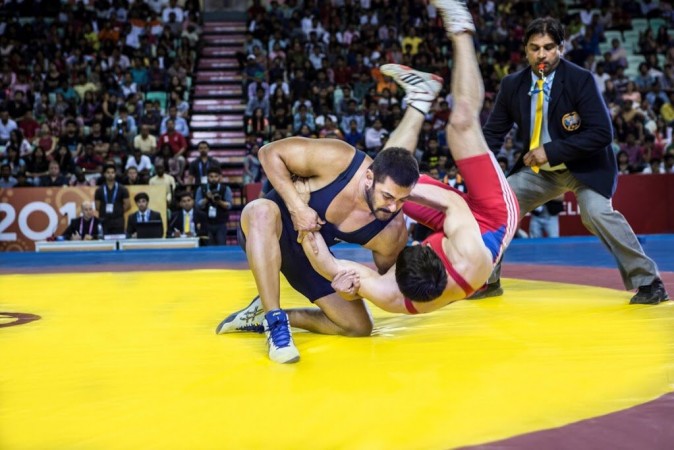 Salman Khan has topped Ormax Media's Stars India Loves again. Salman, who has been in the news for various reasons, has topped the list for June's month. The actor has left behind stars like Akshay Kumar, Shah Rukh Khan and others to top the list of June 2016.
The top 10 list of "Stars India Loves," which was revealed on Tuesday night, features actors who are currently ruling in Bollywood. Starting with "Sultan" actor Salman on the top, the list includes "Rustom" actor Akshay as the second most loved celebrity, followed by "Fan" actor Shah Rukh at third, "Mohenjo Daro" actor Hrithik Roshan at fourth and "Dangal" actor Aamir Khan at fifth.
While the top five in the list includes Bollywood's three Khans, Akshay and Hrithik, the list is rounded up by "Tamasha" actor Ranbir Kapoor, "Udta Punjab" actor Shahid Kapoor, "Bajirao Mastani" actor Ranveer Singh, "Te3n" actor Amitabh Bachchan and "Baadshaho" actor Ajay Devgn.
Ormax's "Stars India Loves" is a monthly survey that tracks the popularity of some of the top Bollywood stars in that particular month. The survey is conducted in around 29 cities across India with a total sample size of 3,300 per month (39,600 per year).
Salman has been in the news thanks to the pre-release buzz of the film "Sultan." The actor also got embroiled in a controversy over his "raped woman" comment. Akshay was in the news for the trailer release of his film "Rustom," while Shah Rukh was among the top newsmaker in June for his upcoming projects. Hrithik and Aamir made it to the headlines for "Mohenjo Daro" and "Dangal" release.
Ranbir and Ranveer were in the news for their alleged breakup and affair, while Shahid and Ajay were in the news for their releases "Udta Punjab" and "Baadshaho."