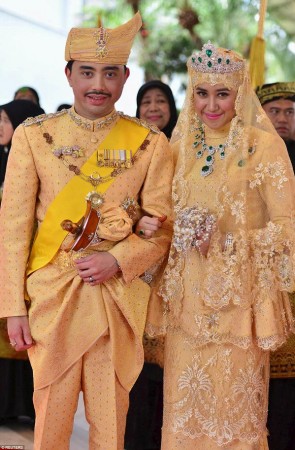 Sultan of Brunei is one of the richest men in this world and has proved it once again with his son Prince Abdul Malik's marriage to Dayangku Raabi'atul 'Adawiyyah Pengiran Haji Bolkiah in a lavish ceremony on Sunday, 12 April. The ceremony was held at 1,788-room Istana Nural Iman palace in Brunei's capital, Bandar Seri Begawan.
The thirty-one year old Prince exchanged vows with 22-year-old former data analyst and IT instructor in a spectacular wedding ceremony, and the grand celebration will come to an end on 15 April.
Sultan of Brunei's Son Abdul Malik's Wedding Photos
The bride and groom were seen wearing traditional Malay gold outfits embellished with diamonds, and instead of flowers, the blushing bride had a bouquet made of gems and diamonds. She also had crystal-encrusted Christian Louboutin shoes and diamond tiara and necklace, which had emeralds in it.
The grand wedding also saw the presence of big names, including Saudi Arabia's governor and seven Malaysian state rulers, among others.
Born to Sultan Hassanal Bolkiah and his wife, Queen Saleha, Abdul Malik is the second in line to be the next Sultan of the sovereign state.
Check out other photos below:
Sultan of Brunei's son celebrates wedding in lavish ceremony http://t.co/5KWeavzKdH via @AlArabiya_Eng pic.twitter.com/R2uOTLeiPV — Menapak Jejak ✊ (@PakdeWinar) April 13, 2015
Sultan of Brunei's son's 'magnificent' wedding. More photos, here: http://t.co/zIpPS8c5l9 pic.twitter.com/475YK2Tlja

— Khaleej Times (@khaleejtimes) April 12, 2015
Sultan Of Brunei's Son's Wedding. pic.twitter.com/fqi4cfEghC — Emmanuel Adigwe (@Igbo_Chuck) April 12, 2015
Sultan of Brunei's Son Marries - See The Bedazzing Wedding Photos http://t.co/di9MLmd5zM pic.twitter.com/BIKhx9cXC9

— Myne Whitman (@Myne_Whitman) April 12, 2015