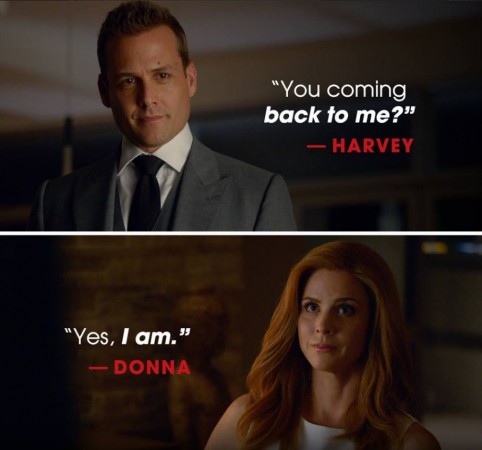 The first half of Season 6 of Suits ended with Donna and Harvey holding hands and this has given rise to a number of theories about where the couple would be when Suits returns in January 2017.
A good number of viewers want Donna and Harvey to get together romantically, and, according to showrunner Aaron Korsh, the handholding is definitely a step forward in their relationship. But it remains to be seen if they would get involved on a romantic level.
"I think it was definitely a development in their intimacy," Korsh told Deadline, adding that it is a development in the evolution of their relationship. "Whether it's going to mean a development in their romantic life moving forward remains to be seen."
Meanwhile, the departure of Gina Torres has sparked rumours that Gabriel Macht is also planning to quit the show. Unconfirmed reports also claim that Suits is coming to an end after Season 6. But according to Korsh, there could be one more season for the legal drama.
"At some point, there will come a time when either I, individually, or we, collectively – studio, network, cast, writers – think it's time to go," the showrunner told Collider earlier this year. "I've always said that I think seven seasons would be the minimum that we would do, and then beyond that, we'll see." At the time he revealed that the cast is under contract through Season 7.
When Suits returns, viewers will see Mike taking a decision on what to do with his life and Harvey and Louis figuring out how to move forward now that Jessica is no longer with them.