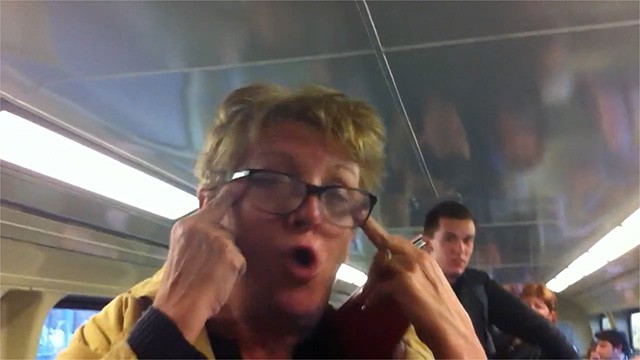 Sue Wilkins, the Australian woman who was filmed hurling racist abuses at a fellow train passenger, has apologised.
The 55-year-old was remorseful of her behavior after the footage, of her verbally abusing an Asian woman on a Sydney train, went viral online.
A fellow passenger onboard had filmed the whole incident which was later uploaded on YouTube, drawing large scale condemnation from public.
And Wilkins' has finally offered an apology.
"It's not nice what I did to that lady," ninemsn quoted Wilkins.
"It wasn't nice to say that to her because it's not nice when people say that to me... call me white trash and fatso. I know how it hurts and I shouldn't be saying it to other people," she added.
In the video, Wilkins is seen abusing an Asian mother with a tirade of expletives. She even called the woman a "gook", while pulling her eyes back in imitation.
Other passengers told Wilkins to shut up and stop saying abuses in front of the the woman's children but Wilkins was unstoppable.
She also abused the man filming her, she called him a "bogan".
"Oh, look at this bogan here, he's got a gook. Oh look at it, isn't it sad that he can't get a regular girlfriend, he's got to get an Asian? And she probably thinks he's rich," Wilkins went on.
The man filming the incident, however, was not related to the Asian woman and was just another passenger.
Meanwhile, the local police have stated that they would charge Wilkins for the offensive behaviour.
'Gook' is a disparaging term for a person of East Asian birth.
In her defence, Wilkins stated that she was upset about a lot of things in life as she was recently scammed off $100,000 by man in Holland, whom she had met through a dating website. And, on the day of the incident, she had been out looking for a job and had travelled through NSW Central Coast to Sydney.
Wilkins said she lost her temper, when the Asian woman asked her children not to vacate their seats for her.
If charged, Wilkins may have to pay at least $500 for abusive behavior.