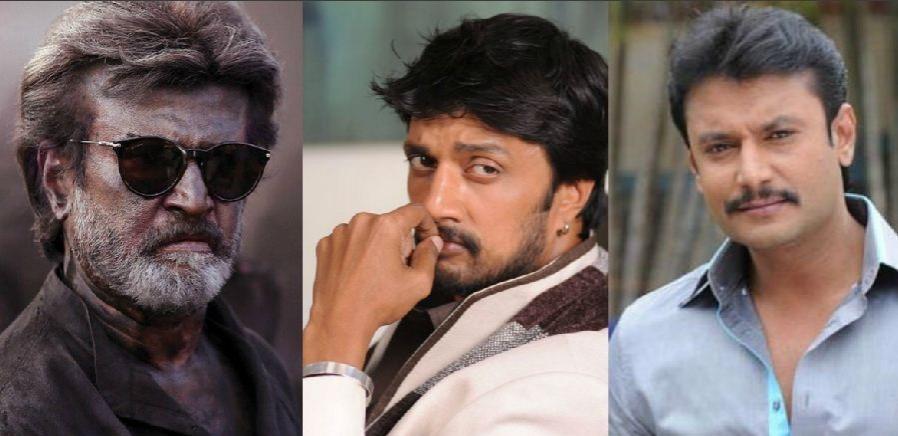 The forthcoming assembly elections in Karnataka seem to be a star-studded affair as leading political parties have been making efforts to bring in Sandalwood celebrities to endorse their respective parties.
A report on News 9 claims that the Congress has roped in Kannada actors Sudeep, Darshan and Prakash Raj to woo the voters. Actress-turned-politician Ramya, who is the heads Congress party's social media wing, will lead the star campaigns in Karnataka.
Darshan, who hails from Mysuru, is likely to campaign for Karnataka chief minister Siddaramiah in Chamundeshwari constituency. It has to be noted that his mother Meena Thogudeep has been appointed as a KPCC secretary.
There were attempts from both the BJP and JDS to bring Sudeep him into their party fold. BJP leader R Ashoka, who is a good friend of the actor, had stated that Kiccha was due for a big announcement, hinting that the Hebbuli actor might join the saffron party.
Later, a similar announcement came from former Prime Minister Deve Gowda. The JDS leader had claimed that his son and former Karnataka Chief Minister HD Kumaraswamy met Sudeep and hinted he might join the JDS.
However, News 9 has reported that Sudeep has surprisingly agreed to campaign for the Congress. In addition to Darshan and Sudeep, Prakash Raj, who has been coming down heavily on the BJP, will be supporting Congress.
On a related note, Kannada actor Upendra, sometime back, floated his own political party, Karnataka Pragnyavanta Janata Paksha (KPJP).
BJP eyeing Rajinikanth
The BJP has set its eyes on Rajinikanth, who announced his political entry recently. "The BJP is always happy to associate with Rajinikanth and we have been supporting his cause all along. We are not practising political untouchability and anybody with integrity is welcome to our fold," The Times of India had quoted C T Ravi, co-convener of Tamil Nadu BJP and Karnataka's senior legislator, as saying.
Rajinikanth's brother Sathyanarayana Rao Gaikwad stated that the actor always dreamt of serving the state where he has his roots. His entry to Tamil Nadu politics will help sort out the conflicts between the two states. Political pundits are of the belief that the superstar might join the saffron party given his spiritual links with the BJP ideology.
His support to the BJP in Karnataka will strengthen the party as he enjoys a good fan following in Karnataka.