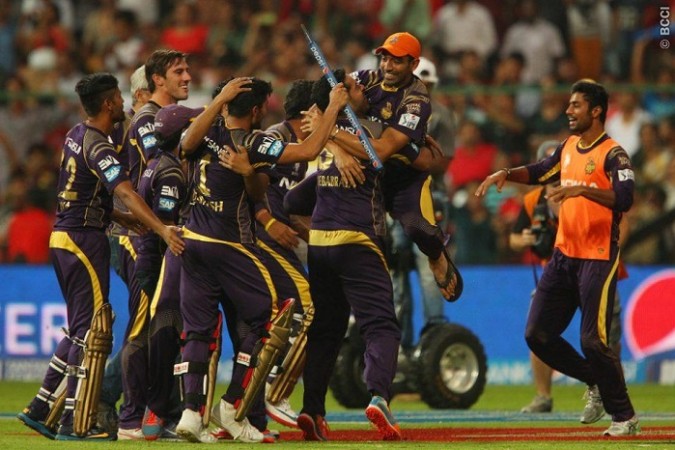 Piyush Chawla swings away a full toss on the off side from Parwinder Awana to give the Kolkata Knight Riders their second IPL triumph. Chawla, from Uttar Pradesh, celebrates as Kolkata and West Bengal go crazy with joy. Amidst the celebrations a glaring fact stands out; a mere two players in the KKR squad - Debabrata Das and Sayan Mondal - are from Bengal.
The lack of home-grown players in all the IPL teams is telling. The number of players in the other seven IPL teams from their respective cities or states is 17.
Will the two IPL triumphs of the Knight Riders benefit cricket in Kolkata and West Bengal is a moot question. This year, Das and Mondal did not play a single game.
Ironically, the one player from Bengal, who put in a marvelous performance in the final - hammering his way to 115 runs, was the Kings XI's Punjab's Wriddhiman Saha. The wicket-keeper batsman was a part of KKR till 2010.
At the auctions this year KKR chose not to retain Manoj Tiwary and Mohammed Shami.
Snehashish Ganguly, a former Bengal batsman, said: "I was surprised Shami had not been retained this season. He has been bowling well for India and Bengal."
Tiwary was among the three topscorers for KKR in 2011, and incidentally hit the winning runs in the 2012 final. However, he had experienced a slump in form in the last two seasons. In the 2012 edition he averaged 26, while in the 2013 his average was a low 18. Laxmi Ratan Shukla, who was in the KKR side every season prior to the last one, was also left out.
"I am not surprised Tiwari and Shukla have not been retained. Their performances have not been in keeping with their reputation and according to expectations. The coach, Trevor Bayliss, and the support staff have managed the team very well and their selection of players has paid off," Ganguly pointed out.
Local talent was largely ignored in this season's auctions as they bought Umesh Yadav and Morne Morkel, and retained Sunil Narine.
Some may argue that for the best side to be chosen, objectivity should rule than emotion. Das and Mondal have played a handful of games in over the seven IPL seasons, though they did not feature this time.
But this does not augur well for the IPL hopefuls from Bengal. All the IPL teams, in their surge for immediate success, are guilty of not giving adequate opportunities to home-grown talent or discarding them in a jiffy.
In the 2013 auctions, KKR - fresh from its 2012 triumph - saw its brand value increase to Rs 243 crore. The team was in second place, behind Chennai Super Kings who were at Rs 245 crore. A hugely popular side, after the first few dismal seasons, KKR hoped to cash in on newly tasted success.
The enthusiasm of KKR fans did not diminish in the first few seasons and increased considerably in the last three seasons. KKR storming to win nine games on the trot this year, after their woeful start in the UAE, meant their fans were in a more delirious state than before.
After this year's triumph, KKR's brand value is expected to see a bigger increase than last time. The win sparked off wild celebrations as hordes thronged to the Eden Gardens to be a part of the party.
Owners Shah Rukh Khan, Juhi Chawla and Jay Mehta would have noticed the fan-frenzy and the packed Eden Gardens every time KKR plays. More success will ensure that the fan-frenzy does not sag. To drive home the success the best international and Indian players may be bought while local talent may remain ignored.