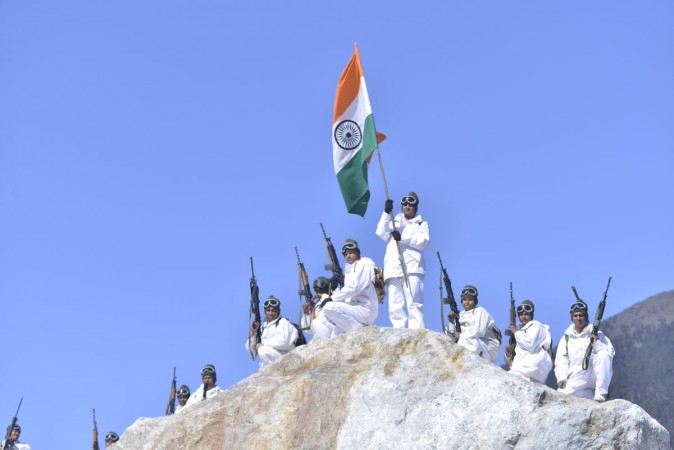 A tableau at the Republic Day parade in Delhi featuring the Indo-Tibetan Border Police (ITBP) has earned much awe from the spectators who gathered at Rajpath on Friday. Now, a video of a group of ITBP soldiers unfurling India's national flag in the Himalayas at minus 30-degree temperatures has won many hearts.
Also read: Republic Day 2018 LIVE Updates: Ram Nath Kovind hoisted India flag at Rajpath for first time
A video which was posted on the official Twitter account of ITBP shows a personnel marching on the snow-capped Himalayas with the national flag in their hand, while other officials are following him in a queue. At the end of the march, the men titled as 'Himveers' hoisted the flag at 18,000 feet above sea level as a part of their Republic Day celebrations.
The zeal displayed by these ITBP officials, whose current strength is over 89,000, has not gone unnoticed and struck a cord with the Indian Twitterati.
A big salute 2 the REAL HEROES OUR GUARDIAN ANGELS dspite such bone chillng temp nvr waverng n their duty.Proud of U All.Happy Republic Day

— Lakshmi Kumar T M (@LakshmiKumarTM) January 26, 2018
Respect....!! No Words of Thank enough as no salary or no perk can motivate but rather only patriotism at heart can give you strength to perform duties like this for safety of every citizen of India...!!

— Rajnish Sood (@Rajnish_Sood_) January 26, 2018
Great... Salute to our brave Soldiers... Jai Hind...??

— Deepak Singh Bisht (@Deepak_Bisht123) January 26, 2018
Great... Salute to our brave Soldiers... Jai Hind...??

— Deepak Singh Bisht (@Deepak_Bisht123) January 26, 2018
Solute from all over the world of Indian people.

— amitsaan (@amitsaan) January 26, 2018
Wow Salute to our heroes Jai Hind and happy Republic Day India

— Debarati (@db1990mini) January 26, 2018
गर्व है हमे हमारे ? हिमवीर भारतीय सेना के वीर जवानों पर जो भारत की रक्षा के लिए विपरीत परिस्थितियों में सीमा पर डटे हुए हैं !!??#RepublicDay
जय हिंद ????जय भारत ????

— Premnarayan sahu?? (@Premnarayansah2) January 26, 2018
Meanwhile, the ITBP, which is one of the five Central Armed Police Forces of India, participated in the R-Day parade on Friday after 20 long years. The tableau, which showcased a newly-inducted snow scooter that the Indian government provided them in 2017, strode down the Rajpath to the tune of 'Hum Sarhad Ke Senani' a patriotic song sung by Sonu Nigam.
On the eve of the Republic Day, 14 ITBP officials were decorated with the President's police medal for their meritorious and distinguished service.
Watch the video here: