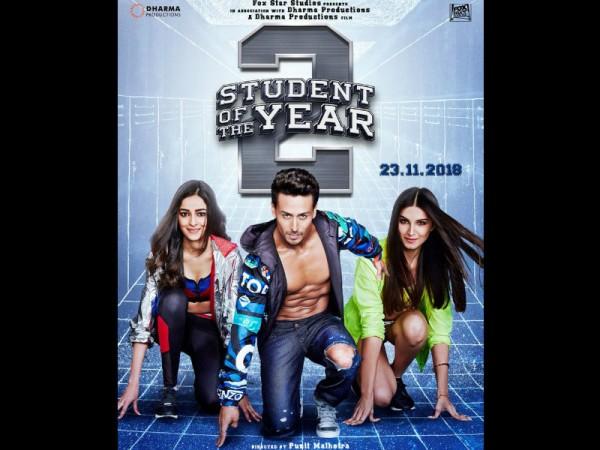 Student of the Year 2 (SOTY 2) starring Tiger Shroff, Tara Sutaria and Ananya Panday is one of the most awaited flicks of this year. The movie not only takes the ahead the franchise, but also introduces two new actresses.
Student of the Year 2 has a good hype around it, and fans are expecting to see positive reviews for the film. The trailer of the teen drama suggested that the movie will have good dose of action, humour, romance and drama.
Directed by Punit Malhotra, Student of the Year 2 is about Rohan Sehgal (Tiger), who after facing a heartbreak, sets out in a mission to become "student of the year" by defeating the most popular stud in the college.
The movie received average reviews from the critics. It is being said that Student of the Year 2 is too unrealistic, and a dump drama. However, it is also being said that it is entertaining in parts.
Co-produced by Karan Johar, Student of the Year 2 is made for a particular set of audience, which is the youth.
While Tiger's action stunts are going to worth watching, many eyes will be looking forward for Ananya and Tara's performances in the film.
Here's what critics' have to say about SOTY 2
The Times Of India: "A lot of drama and action remains out of the classroom, with focus on sports, dance and romance, but the chemistry between Tiger and the two debutantes never really takes off. Overall, this chapter doesn't have much of that ishq wala love, but there is ample dosti, kabaddi and cool stuff to keep you going. Think of it as a much snazzier version of 'Jo Jeeta Wahi Sikander' minus the realism."
Rating: 3 stars out of 5.
DNA India: "Apart from Will Smith's miss-if-you-blink appearance, watch SOTY(2) for Tiger. Even when things around him are caving in, his ballerina grace is intact. One star in the rating is reserved for Tiger."
Rating: 3 stars out of 5.
Khaleej Times: "Overall SOTY2 works because of th earmest performances from all four lead actors who are ably supported by some excellent actors in other side roles -specially Rohan's Pishori friends. It might come across as all fluff and not much soul but the pretty faces more than compensate. If you are a fan of KJo's feel good movies detached from reality, then SOTY2 is for you."
Rating: 3 stars out of 5.
Koimoi: "All said and done, I don't mind cheesy Dharma movies (loved the part 1) but this one is just a needless sequel. They could've titled this as 'Not-A-Student Of The Year', and still, it would've have been equally bad."
Rating: 1.5 stars out of 5.
NDTV: Student Of The Year 2 flunks every test on the parameters of both writing and crafting. For a genuine lover of Hindi popular cinema, it is more trauma than drama.
Rating: 1.5 stars out of 5