Former India captain Sunil Gavaskar has expressed disappointment at the way South African batsmen have been losing their plot against wrist-spin in the ongoing six-match ODI series against India at home.
The batting legend said South Africa will be well served if they send their 'A' team to play the Buchi Babu All-India invitational tournament, held annually in Chennai.
Also read: Chahal-Kuldeep to replace Ashwin-Jadeja in Tests? Virat Kohli talks about 'very brave' duo's chances
Exposure of playing against spinners from India 'A' team and even junior teams will help the world number two ODI team overcome their recent struggles against the turning ball, according to him.
"A lot of South African batsmen have paid the price for playing across the line. Not too many batsmen have tried to go down the pitch," Gavaskar said during an analysis show on Sony Ten 1 television channel after South Africa's third straight defeat in the ODI series on Wednesday, February 7.
He added: "Look, when you watch the hand, they [Kuldeep Yadav and Yuzvendra Chahal] are not very difficult to pick. Maybe Kuldeep Yadav, when he bowls the wrong one, he is a little difficult to pick. But with Chahal, you can actually see the back of the hand.
"So, what they need to really do in my view is their A team needs to come and play in the Buchi Babu and stay at the spin academy in Chennai and participate. Over there, they will get a much better idea of how to play spin.
"Even if they are playing against the A' team or some of the Indian junior team spinners, they will learn how to play spin like how Australia and New Zealand have done."
Notably, the likes of New Zealand A [2009, 2001] and Australia XI [2007] have been part of the Buchi Babu tournaments, which became an important part of the domestic calendar after it became an invitational tournament in the late 1960s.
Teams from across the country warm up for the domestic season by playing the tournament on dry wickets in Chennai, which does not witness as much rainfall as some other parts of India in the months of August and September.
Gavaskar lauds 'fantastic' Indian wrist-spinners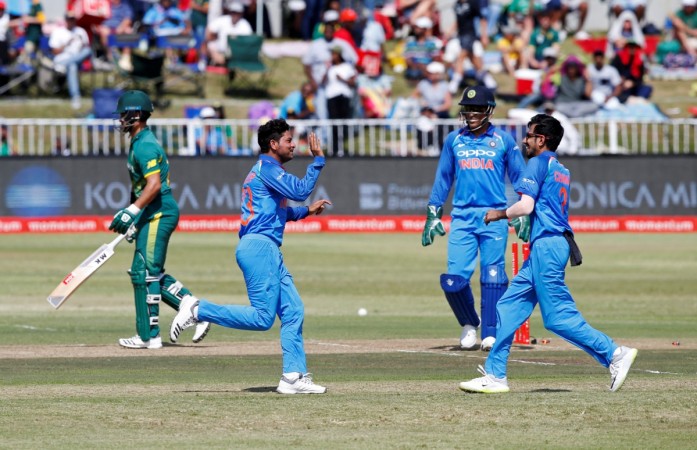 Gavaskar also lauded Virat Kohli's wreckers-in-chief -- Kuldeep Yadav and Yuzvendra Chahal -- for their match-winning efforts in the ODI series. Notably, the two wrist-spinners have decimated the South African batting line-up, which looks depleted due to the absence of injured AB de Villiers and Faf du Plessis.
Chahal and Kuldeep have picked up 21 wickets between them in the first three matches, which India have won without breaking a sweat. The former also became the first spinner to pick up a five-for against South Africa in the "Rainbow Nation". He achieved the feat in the second ODI in Centurion on Sunday, February 4.
"They [Kuldeep and Chahal] have really been fantastic, they have been fantastic because of their willingness to toss the ball up," Gavaskar said.
He added: "A lot of people would say they should bowl a bit faster but they vary their speed maybe. Because they have been able to vary their pace and toss it up, the South African batsmen haven't picked them and got themselves into trouble."