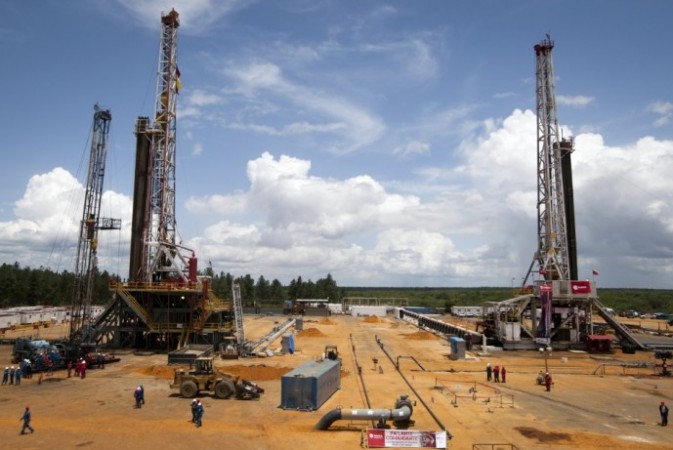 Crude oil prices rallied sharply last week raising hopes of trend reversal in the commodity prices, but analysts believe that oil market still has to overcome significant challenges to see a sustainable rebound.
Brent crude oil prices surged by around 10% last week, recording their steepest weekly gain in five-and-a-half years, underpinned by the reports of a decline in US oil production.
"Market participants, however, are currently choosing to focus more on the apparent (provisional) end to the shale oil boom in the US," said a Commerzbank Corporates & Markets report on Monday.
A report by Baker Hughes on Friday showed that oil rig count in the US fell for a 19th straight week, its lowest level since November 2010.
"Money managers are jumping on the bandwagon and exacerbating the price rises with their purchases," said Commerzbank.
The prices of Brent crude recovered to around $63 per barrel, up $17 (approximately a third) from its January low of $46 per barrel.
"The most important reason for the recovery is the growing evidence that US oil production is levelling out in response to the previous sharp falls in prices. It has taken a while for the collapse in the number of active drilling rigs to result in lower output (due in part to the increased productivity of individual wells), but this is now starting to feed through into the hard data," said Capital Economics in press note.
Capital Economics sees scope for oil prices to climb even higher in the short term, supported by fall in the US oil output and crude stock data, besides news on improved demand from the economies of the US, Euro-zone and China.
However, oil prices still face substantial risks to continue climbing higher, notable among them is a possible rebound in US supply as a result of increase in prices.
An early sign of this would be a renewed pick up in the number of active rigs, data which we will continue to monitor closely, Capital Economics added.
Another major risk for crude oil prices to sustain current rally comes from increased oil output by Organization of the Petroleum Exporting Countries (OPEC), even before Iranian exports hit the market.
A report last week showed that cartel's production increased to 30.8 million barrels per day in March, up 800,000 barrels, mainly due to increase in output in Saudi Arabia and Iraq.
Also, any escalation in debt crisis in Greece is expected to dampen global risk appetite, weighing on the prices of crude oil.
"The upshot is that we still see oil prices grinding only a little higher, towards $70 by end-2017," said Capital Economics.