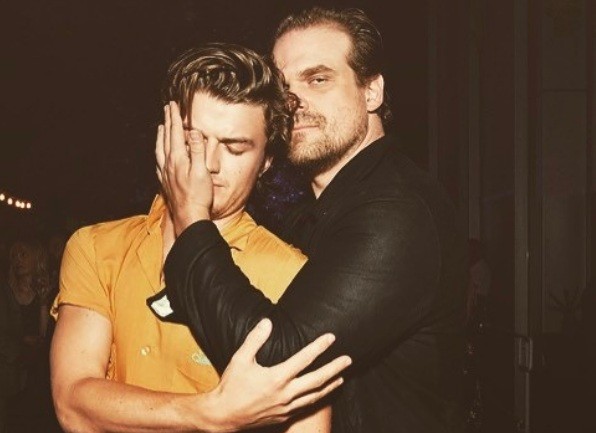 Which is more important— Chief Hopper's Golden Globe Award or Steve Harrington's much-hyped hair?
David Harbour, who is well known for his portrayal of Chief Hopper in Netflix' Stranger Things, recently has been nominated for Golden Globes in the Best Supporting Actor category.
Also read: Golden Globes Nominations 2018: It's Game of Thrones vs. Stranger Things in the Best TV Drama category
Taking to Instagram, Harbour wrote: "I tip my hat to you @goldenglobes for the nomination. My Christmas present came early this year. You got me feeling all the holiday feels."
In the comment section, like many others, actor Joe Keery, known for his portrayal as Steve Harrington, chimed in, saying: "If you win David the Duffer's [sic] get to shave my head."
Keery's this comment just stole Harbour's limelight based on how iconic and important his hairstyle is at this moment.
One user commented: "If you let them do this you will break the hearts of so many fans. if they get anywhere near, you pull out the bat covered in nails."
Stranger Things fans might be sobbing thinking about Keery's shaved head, but the third season of the series is returning to the small screen soon. Hence, Keery cannot shave his head to keep the continuity with the series.
Upon Harbour's Golden Globe's win, whether Keery shaves her head or not, one thing will happen for sure — he is vowed to do that dance that he did for Milly Bobby Brown's Eleven in Season 2.
Apart from Harbour's Golden Globe nomination, Stranger Things has been nominated for the Best TV Drama category. The sci-fi horror drama has also earned two nods in two categories — Best Drama Series and Best Supporting Male Actor. It has also bagged a few SAG Award nominations.