If you are a Stranger Things fan, then you must have finished watching the second season of the Netflix sci-fi series. Hence, you have watched the much-anticipated kiss scene of Max (Sadie Sink) and Lucas (Caleb McLaughlin).
Also read: Hey Duffer Brothers! 15.8 million people watched Stranger Things Season 2 premiere in first three days
But the particular scene from the season 2 created outrage on social media as a clip of Beyond Stranger Things reveals that Sink was 'stressed out' by the idea. The much-talked kiss took place when the kids attend the Hawkins Middle School Snow Ball dance.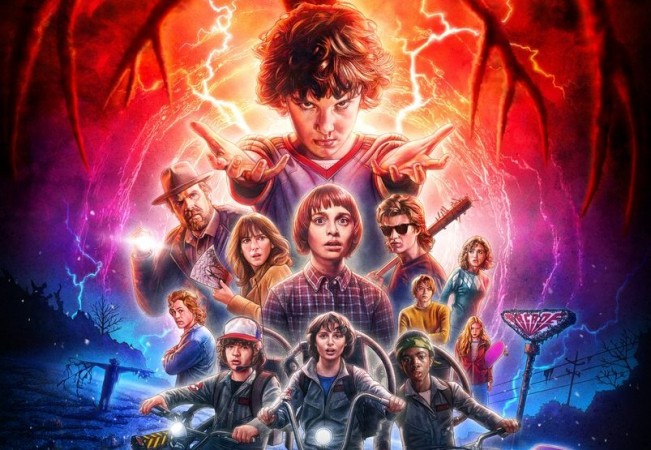 Beyond Stranger Things, which offers the behind the scene look of the series, shows the group discussion with the Duffer brothers. And, they were joined by actors Sadie Sink, Caleb McLaughlin, and Gaten Matarazzo.
During the conversation, Sink admitted that she felt nervous about the kiss as "It was not written in the script."
"One of you, I think it was you Ross, said "oh Sadie are you ready for the kiss?" and I said "what no that's not in the script, that's not happening." So the whole day I was stressed out, wait, is this going to happen?" Sink said.
Watch the clip here.
Ross [Duffer] then attempted to explain that they were originally joking about the kiss but seeing her 'freaked out' made them decide that they "gotta make her do it now."
But Sink's such statements did not go well with its viewers.
Particularly, looking at the current situation where tons of sexual harassment allegations are coming out from many men and women, the Duffer brothers' suggestion to make a 15-year-old actress perform an unexpected kiss scene drew a lot of flak.
Taking to various social media platforms, viewers have expressed their anger over the issue.
@Stranger_Things Beyond disgusted that Duffer Brothers made Sadie Sink do a kiss scene when she didn't want to and not in script. She's 15!

— Raven (@reyesravena) November 6, 2017
A director's job is to get the best performances from their actors AND make sure they feel safe and comfortable.

— Anna Marquardt (@ajlobster) October 31, 2017
I love Stranger Things but that Duffer brother telling Sadie Sink the uncomfortable situation was her own fault is so deeply gross.

— Brittany Erickson (@TheBrittany_Be) November 5, 2017
The Duffer Bros seeing Sadie Sink, a child, be uncomfortable with the prospect of having to kiss so they make her do it for kicks? Gross.

— Janet Wright (@wrightnthejanet) November 4, 2017
Ahead of the series premiere, Variety had an interaction with the Duffer brothers in which they explained how much effort they put the make the actors kiss.
"Whenever we make them kiss it's like, oh my god, it's like a two month buildup to that," Ross said at the time.
"Give me a break!" Matt added. "They had to kiss three times. You'd think it's the end of the world but I guess it's a big deal. Caleb, I think it was his first kiss. It was definitely Sadie's first kiss. I know that."
"But then even Millie and Finn had never kissed before. It was still huge. Actually, though, neither of those kisses were written in the script so we kind of dropped that on them the day of and caused a major panic. But they did it."
He admitted that it was fun to push the kids' buttons.
"It was fun. I love it. You have to torture them a little bit. You know you've got to entertain yourself some way. And we have all these children who are just fun. I know exactly how to push their buttons at this point."