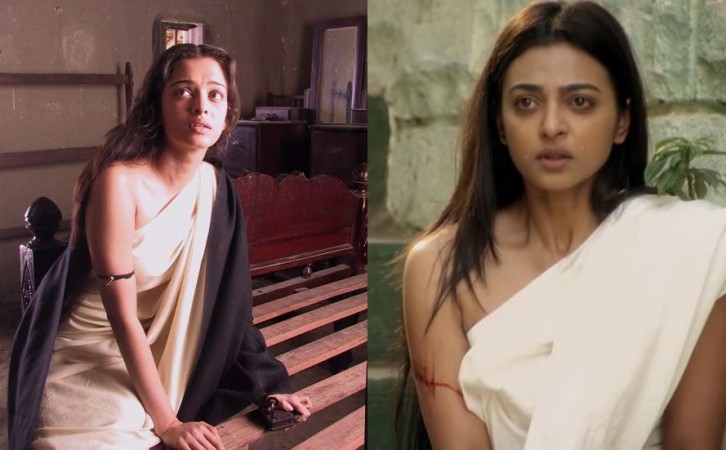 Bollywood actress Radhika Apte will reprise the role of Aishwarya Rai Bachchan in the TV series of the film "Chokher Bali".
Filmmaker Anurag Basu will launch television series based on Nobel laureate Rabindranath Tagore's short stories and novels, inducing "Chokher Bali", "Charulata" and "Atithi".
The filmmaker has signed Radhika, who was recently in news for her semi-nude scene leaked video, for the series. Radhika will be seen playing the role of Binodini, which was played by Aishwarya Rai on the big screen in Rituparno Ghosh's directorial movie.
"In 'Chokher Bali', I play the character of the young widow Binodini, who is very unjustly treated by the society and ends up in seclusion and loneliness," Radhika said in a statement last year.
"She attempts to destroy the life of the person she thinks is responsible (for her state). Despite her negative intentions, she comes across as very intelligent, wise and noble person and cannot be hated for her vulnerability," she added.
The first look of the Anurag Basu's series was released on Rabindranath Tagore Jayanti, i.e. on 9 May.
"Wish Fulfilled!ThankYou @EpicchannelIn Always wanted to adopt Tagore Stories For TV #Firstlook #StoriesByRabindranathTagore on Sat," Basu tweeted on Friday.
On Saturday, he released the first look on his Twitter handle and tweeted, "Happy Pochishe Boishakh to all! #RabindraJayanti Stories by Tagore coming soon @EpicChannelIn here's the first look."
The series titled as "Stories by Rabindranath Tagore" will go on air July. The series explores the roles women play during the old times in Bengal and how they took bold steps to survive in different situations.
Watch the first look of "Stories by Rabindranath Tagore" below: