Anil Kapoor's younger son and Sonam Kapoor's brother Harsh Varrdhan Kapoor is one of the most popular star kids in Bollywood. The young star is a sneakerhead and often posts updates about the same on his social media. The actor has a room full of sneakers and sports shoes, living a lavish lifestyle and he also has swanky cars and much more.
The actor however often gets trolled for his statements. His love for sneakers and struggle for cars don't seem relatable to many.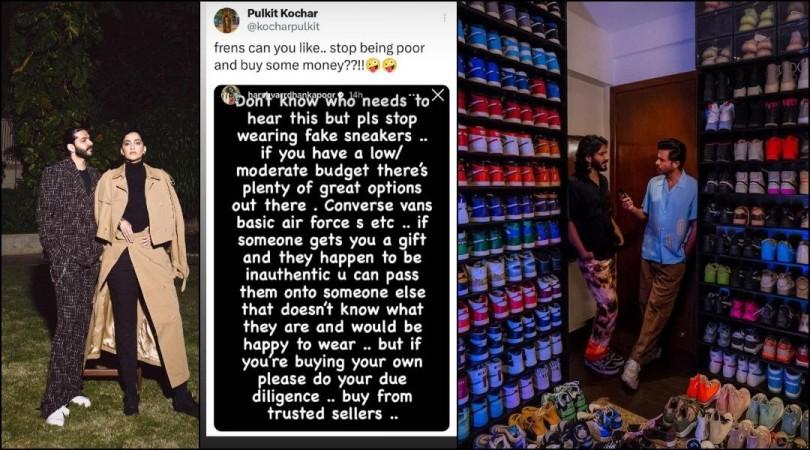 Harsh Varrdhan Kapoor's advice to sneakerheads cracks up the internet
Harsh Varrdhan often takes to Instagram reels and shares videos of him unboxing sneakers. However, on Monday afternoon the actor shared his two cents on people buying fake sneakers he took to his Instagram stories and advised people to buy only authentic sneakers.
He wrote, "Don't know who needs to hear this but pls stop wearing fake sneakers .. if you have a low/ moderate budget there's plenty of great options out there. Converse vans basic air force s etc .. if someone gets you a gift and they happen to be inauthentic u can pass them onto someone else who doesn't know what they are and would be happy to wear .. but if you're buying your own please do your due diligence .. buy from trusted sellers.."
He continued in the next story, "Also really boys who look into how they dress and invest well in what they wear .. again doesn't have to be expensive tons and tons of cheap options out there . but no point of wearing a really expensive pair of shoes if you don't know how to put the rest of it together tbh .. it's supposed to say something about you .. your tastes and preferences .. there's information everywhere and access dont be lazy .. look into it and learn it can be a lot of fun .. when we talk about the culture be it sneaker culture or street ir whatever its not about clout it's about your own individuality uniqueness and about how your outfit and choices speak for you and what they represent."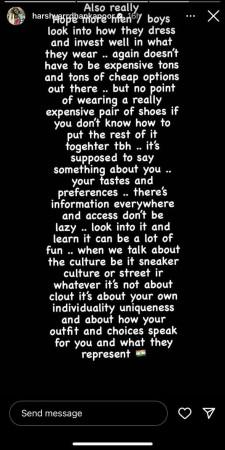 His advice was not well received by netizens and they slammed Harsh Varrdhan for being rich and affluent and schooled him that not everyone cant afford such expensive sneakers.
Take a look at the comments.
A social media influencer and actor Pulkit Kochar shared Harsh's story on micro-blogging platform X, formerly Twitter and wrote, "Friends can you like.. stop being poor and buy some money??!"
And in no time netizens roasted Harsh Varrdhan for his "don't buy cheap sneakers" comment.
Take a look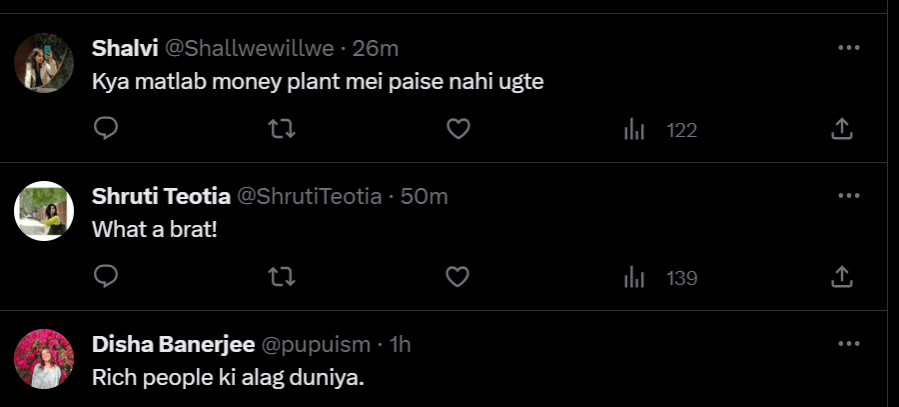 A user wrote, "Please just buy basic air forces please, they only cost 8-9k, so cheap."

Another mentioned, "The Kapoor siblings never disappoint."

The third one said, "Don't know who needs to hear this" but I really want to know whom he's talking to ? Like who's his intended audience for this priceless advice?"
Work front
For the unversed, Harsh Varrdhan started his career as an assistant director in the 2015 movie, Bombay Velvet. Soon after that, he entered Bollywood with his debut film, Mirzya. He has also acted in other movies, such as AK VS AK, Bhavesh Joshi Superhero and Thar.