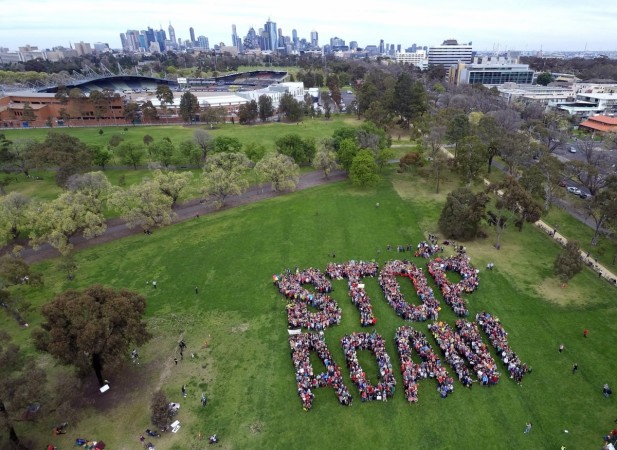 Several protests were staged in different parts of Australia against Indian conglomerate Adani Enterprises' proposed Carmichael coal mine in Central Queensland, Reuters reported on Saturday.
The demonstrations were organised by the Stop Adani alliance, which includes more than 40 groups, The Guardian reported. The alliance said on their website that, "Adani is pulling out all the tricks to build its mega coal mine that will trash indigenous rights, wreck the climate and prop up a boom-bust economy."
Protestors at large are forming human signs that said "STOP ADANI" at various prominent locations across the country, and numbers of protestors are growing with each passing day.
Another Guardian report reveals that as much 70 percent of Australians opposed to Adani's Carmichael coal mine, and even more strongly opposed to it getting any government assistance.
"I think there is a very real national concern that goes beyond Queensland about the idea of giving this mine a billion-dollar taxpayer-funded loan," Blair Palese, one of the organisers noted in Stop Adani campaign.
Adani has been counting on $704 million loans from the Northern Australian Infrastructure Facility (NAIF) for a rail link to the proposed mine. "Adani may not have to borrow from NAIF. If the commercial banks take off all the debt then we will not have any need for NAIF as there will be no gap," the company's chief executive officer, Jeyakumar Janakaraj, told The Hindu.
"2/3 of people believe the Queensland government should veto a proposed $1 billion Commonwealth loan to the mine" https://t.co/1558tP8MjD

— Stop Adani Sydney (@stopadanisydney) October 8, 2017
Environmental activists opined that the proposed Queensland project, which would become Australia's largest coal mine, will damage the country's famous and sensitive Great Barrier Reef which will eventually add up to global warming.
The Carmichael coal mine project was first proposed in 2010, since then it has been tangled in legal disputes for years as environmentalists have opposed it.
After a Brisbane court, on August, dismissed two appeals against the project, Adani Group chairman Gautam Adani said the work on the Rs 10,000 crore coal mine project will start from October.